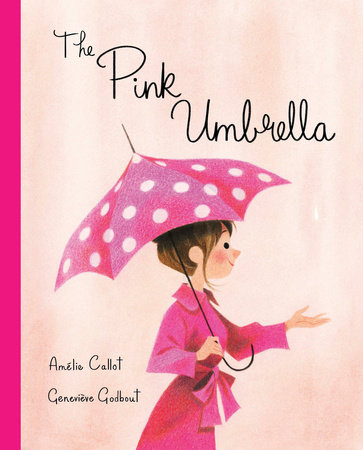 The Pink Umbrella by Amélie Callot
My rating: 4 of 5 stars
Received: Publisher
Publication Date: January 2nd, 2018
Publisher: Tundra Books
Genres & Themes: Picture Book, Friendship, Kindness, Mood
---
BLURB:
When it's bright outside, Adele is the heart of her community, greeting everyone who comes into her cafe with arms wide open. But when it rains, she can't help but stay at home inside, under the covers. Because Adele takes such good care of her friends and customers, one of them decides to take care of her too, and piece by piece leaves her little gifts that help her find the joy in a gray, rainy day. 
How heart-warming.
This is a story to be read on a rainy, gloomy day. And since those are quite frequent this season, I will make sure to keep this book close in case I need a serious dose of cuteness once in a while.
Adele is a café-owner who is joyful and lively… but her shiny personality disappears when the rain comes. Customers are rare during those days, and so are her smiles.
The only one who is there always is her friend Lucas, who provides help anytime necessary.
Little did she know, Lucas would find a way for Adele to enjoy the rain once and for all and not let it affect her mood anymore.
So this is for sure corny, but it celebrates beautiful friendships. Your friends can uplift your mood when you're feeling down—they can make you see the beauty that is hidden within the darkness.
Simply lovely, as is the art.
The only reason why I cannot give it a five-star-rating is because the first part is long. I don't think one needs more than four, or six, pages to introduce a café.
Follow me on:
Youtube | Twitter| Instagram | Google+ | Goodreads | Bloglovin'