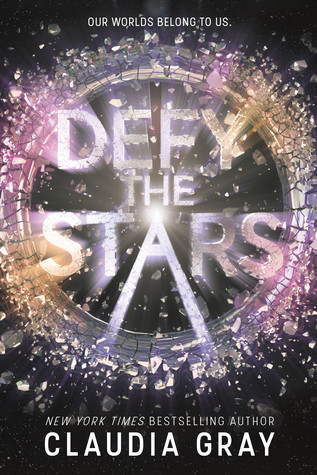 Defy the Stars by Claudia Gray
My rating: 1 of 5 stars
Received: Publisher
First Published: April 4th, 2017
Publisher: Little, Brown BFYR
Recommended Age: 12+
Pacing: Normal
Genres & Themes: Young Adult, Science Fiction, Romance, Space Adventure
---
BLURB:
She's a soldier — Noemi Vidal is willing to risk anything to protect her planet, Genesis, including her own life. To their enemies on Earth, she's a rebel. He's a machine — Abandoned in space for years, utterly alone, Abel's advanced programming has begun to evolve. He wants only to protect his creator, and to be free. To the people of Genesis, he's an abomination. Noemi and Abel are enemies in an interstellar war, forced by chance to work together as they embark on a daring journey through the stars. Their efforts would end the fighting for good, but they're not without sacrifice. The stakes are even higher than either of them first realized, and the more time they spend together, the more they're forced to question everything they'd been taught was true.
I am not surprised about the fact that I could not stand this book, seeing that science fiction and I absolutely do not go hand in hand.
But then again, I read Empress of a Thousand Skies—a space adventure also—recently and that one was a pleasant surprise.
So what's so wrong about this story that I was able to give it a one-star-rating and feel no remorse whatsoever?
Firstly, the writing style. From the very beginning, I couldn't shake the feeling that there is something that is not quite right about it. And then I got it: it is condescending. This is a YA book, but the writing style gave me the impression that the author had written this book for a much younger audience.
Secondly, Noemi. She's the supposedly kickass main character. I wouldn't go as far as to say that she deserves to be eliminated from the bookworld, but she is as memorable as the heel of my shoe.
Thirdly and finally, Abel left me unmoved. He is the machine—so not human—that Noemi discovers in an old spaceship. He thinks like a robot, speaks like a robot and certainly acts like a robot. But he looks like a human… mostly.
Look, I did not expect to fall so head over heels for him as to ask him to marry me, as no robot has ever been met with this kind of reaction from me, but he is the love interest of the story, so doesn't that mean that he's supposed to win me, the reader, over as well?
He's awkward all the freaking time and, not to mention, made out of, mostly, metal. Because he's a robot. How romantic.
Not for me. Again not surprised, but that doesn't mean that I wasn't hoping I would like it somehow. It's a DNF, guys.
Follow me on:
Youtube | Twitter| Instagram | Google+ | Goodreads | Bloglovin'