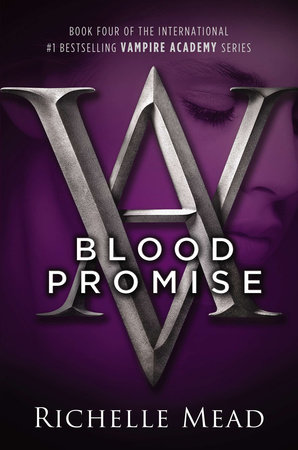 Blood Promise by Richelle Mead
My rating: 4 of 5 stars
Received: Publisher
First Published: 2009
Publisher: Razorbill
Recommended Age: 12+
Pacing: Slow-Normal
Genres & Themes: Young Adult, Vampires, Love, Dark, Family
---
BLURB:
The recent Strigoi attack at St. Vladimir's Academy was the deadliest ever in the school's history, claiming the lives of Moroi students, teachers, and guardians alike. Even worse, the Strigoi took some of their victims with them . . . including Dimitri. He'd rather die than be one of them, and now Rose must abandon her best friend, Lissa–the one she has sworn to protect no matter what–and keep the promise Dimitri begged her to make long ago. But with everything at stake, how can she possibly destroy the person she loves most?  
I'll tell you what, the first three books in the series were wonderland stories compared to this one right here.
Why? Because it is painful to read about a heroine who is separated from her love interest, aka her one true love that should never have turned into a Strigoi in the first place. (Side note: this is why I did not enjoy the second Twilight book at all.)
I hope this will not come as a shock or spoiler if I tell you that these two characters do eventually reunite, otherwise there would be no story to tell, but until they do, Rose has only her own thoughts about Dimitri to ponder.
And boy does she ponder. Fortunately she does meet other heroes and villains along the way, so it's not constantly about the beautiful memories she shares with Dimitri or the ways in which she will have to end him.
Regardless, do expect more introspection than action. The second part of the book—when she sees Dimitri again—is three times better than the first, seeing that it's the moment we'd all been waiting for and the events are more intense.
This means that, in general, this is much slower than the previous three books. Personally, I was not surprised by it and became used to hearing Rose miss Dimitri and wonder about the relationship that could have been, but I certainly do admit that I cried FINALLY when Rose finally found the love of her life.
It's true that Richelle Mead could have put more effort into this one, since at least twice she is offered answers on a silver platter and Rose actually says this is too good to be true and that something is up (not that much is up). That should not have happened.
But here's the thing: This book is necessary. If Ms. Mead had never turned Dimitri into a Strigoi, we would be having a completely different sequel, and perhaps that would have been preferred by many, but Dimitri did become a Strigoi, so we did need this sequel whether it worked for you or not.
Follow me on:
Youtube | Twitter| Instagram | Google+ | Goodreads | Bloglovin'