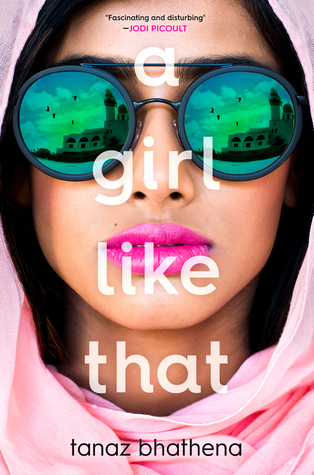 A Girl Like That by Tanaz Bhathena
My rating: 4 of 5 stars
Received: Distributor
First Published: February 27th, 2018
Publisher: FSG
Recommended Age: 12+
Pacing: Normal
Genres & Themes: Young Adult, Abuse, Romance, Culture, Gender Issues
---
BLURB:
Sixteen-year-old Zarin Wadia is many things: a bright and vivacious student, an orphan, a risk taker. She's also the kind of girl that parents warn their kids to stay away from: a troublemaker whose many romances are the subject of endless gossip at school. You don't want to get involved with a girl like that, they say. So how is it that eighteen-year-old Porus Dumasia has only ever had eyes for her? And how did Zarin and Porus end up dead in a car together, crashed on the side of a highway in Jeddah, Saudi Arabia? When the religious police arrive on the scene, everything everyone thought they knew about Zarin is questioned. And as her story is pieced together, told through multiple perspectives, it becomes clear that she was far more than just a girl like that.
This is not a feel-good book, and Zarin is not your happy-go-lucky heroine.
It is fantastically refreshing to be reading a YA contemporary story that is not set in North America. Instead, the reader is heading to Saudi Arabia to meet the controversial Zarin who is more than she appears to be.
Zarin has had a tough life. Her father was a criminal and her mother died when she was still a child. Living with her aunt, who abuses her physically, and her aunt's husband, who only sometimes defends her, she does not feel safe. One would say that she is being self-destructive by being involved with guys continuously when she knows she could easily get into trouble with the religious police, but Zarin would tell you that she is compensating for having never grown up with a father and trying to fill as much as she can the emptiness in her heart caused by the lack of love in her life.
The reason why I am speaking about Zarin's life and not her death is because this is a story that focuses more on what led to her death than her funeral. In other words, the before is more important than the after. Her story is told from multiple perspectives, herself included.
This story fascinated me. The fact that I knew Zarin died in a car accident before I even picked the book up, and was reminded of it again in the very first chapter, did not at all temper my interest. Actually, it sparked my curiosity even more intensely. The characters are three-dimensional, seeing that the author does an impressive job of giving them all a back-story and a reason for us to be interested in them.
What an incredible debut novel. I am eager to see Ms. Bhathena publish more books in the future. Dark themes appear to be her go-to, though, so I'll admit that I'm also a little apprehensive. I better be prepared to have my heart be shattered once more. Poor heart.
---
Q & A with the Author
Is there one scene you wanted to add to the story but thought otherwise at the last minute?
I vividly remember this one scene that involved both Zarin and Mishal teaming up to outwit a group of boys catcalling them from a bus in grade 10. It was based off a short story I'd written a long time ago and I badly wanted to incorporate it into the novel as well. After another read, though, I realized it just wasn't working with the book as a whole and I had to cut it.
Follow me on:
Youtube | Twitter| Instagram | Google+ | Goodreads | Bloglovin'