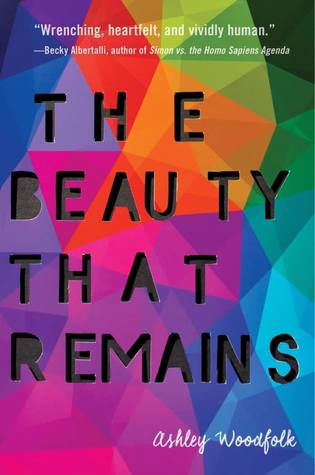 The Beauty That Remains by Ashley Woodfolk
My rating: 2 of 5 stars
Received: Publisher
First Published: March 6th, 2018
Publisher: Delacorte Press
Recommended Age: 12+
Pacing: Slow
Genres & Themes: Young Adult, Grief, Contemporary, LGBT, Diversity
---
BLURB:
Autumn always knew exactly who she was—a talented artist and a loyal friend. Shay was defined by two things: her bond with her twin sister, Sasha, and her love of music. And Logan always turned to writing love songs when his love life was a little less than perfect. But when tragedy strikes each of them, somehow music is no longer enough. Now Logan can't stop watching vlogs of his dead ex-boyfriend. Shay is a music blogger struggling to keep it together. And Autumn sends messages that she knows can never be answered.
Books that deal with grief are hit-or-miss for me.
I always find them important, because how could anyone not, but I am only able to enjoy them if I end up caring considerably for the dead characters and/or the characters who are grieving themselves.
This book contains three alternative points of view: two girls and one boy. All three characters—Autumn, Logan and Shay—have lost someone they loved, whether it be a boyfriend, friend or family member.
The latter also died under various tragic circumstances. One loved one died from an illness, another in a car accident, and the third committed suicide. This means that the grieving process for each of the characters is different.
Unfortunately, it takes a while for the characters to have even a very limited connection to one another other than the fact that they have all lost someone they cared about deeply. And of what I know, they never interact with one another (I admit I skipped some uneventful parts).
It reads well, but you have to really be interested to begin with, seeing that it's not a surprising novel. It's pleasant, insomuch as the writing is good, the characters are diverse and have distinct personalities and the atmosphere is mostly a whimsical sort of calm.
But I don't see the point of having three characters if you're not going to make them interact with one another in a meaningful way. Why not write three separate books that each contain one of these three characters instead? I was expecting the characters to meet and help each other out, but that's not how it works in this story.
I think this could have been something. ''Could have,'' what sad words.
Follow me on:
Youtube | Twitter| Instagram | Google+ | Goodreads | Bloglovin'