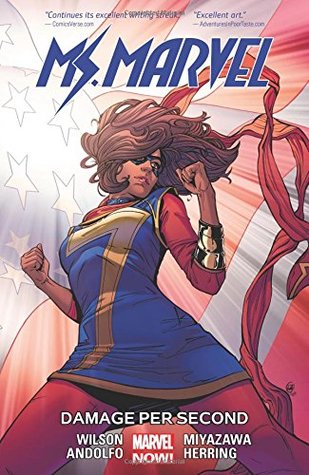 Ms. Marvel, Vol. 7: Damage Per Second by G. Willow Wilson
My rating: 3 of 5 stars
Received: Distributor
Published: August 2017
Publisher: Marvel
Recommended Age: 12+
Genres & Themes: Young Adult, Action, Superheroes, LGBT, Politics
---
BLURB:
Civil War II is behind her, and a brand new chapter for Kamala Khan is about to begin! But it's lonely out there for a super hero when her loved ones no longer have her back. It's time for Kamala to find out exactly who she is when she is on her own. Plus: it's election time! Kamala gets out the vote!
This story is so… corny.
In the first chapter, Ms. Marvel gives a speech about people having no excuse about not going to vote, and it gives us an idea of who these writers supported in the past elections.
Then, the rest is about a virus spreading around Jersey City, controlling the bodies of humans and blackmailing Ms. Marvel.
I mean… is that really necessary? I feel like this has been done before because nothing surprised me and the way Ms. Marvel dealt with the issue almost made me want to roll my eyes.
I'm glad that something good came out of it, and this story really does contain beautiful themes, even if it's not the best volume as of yet.
I also appreciate Bruno's chapter because I don't remember us being in his head like this before and it showed us what he's up to now that he's very far away from Jersey City.
Not bad, but an evil virus, seriously? Didn't the Avengers deal with that in one of the movies?
Follow me on:
Youtube | Twitter| Instagram | Google+ | Goodreads | Bloglovin'