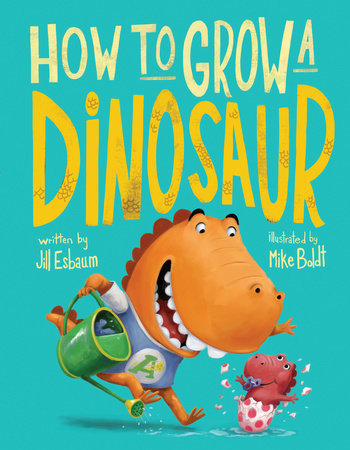 How to Grow a Dinosaur by Jill Esbaum
My rating: 3 of 5 stars
Received: Publisher
Publication Date: January 23rd, 2018
Publisher: Dial
Genres & Themes: Picture Book, Animals, Family, Siblings, Child Rearing
---
BLURB:
Good news: Your mom's hatching a baby! Bad news: Babies take their sweet time. And when the baby finally hatches? He's too little to play! He mostly screeches, eats, burps, sleeps, and poops. He doesn't even know he's a dinosaur! That's where you come in. You can teach the baby just about everything–from peek-a-boo to roaring to table manners to bedtime. Growing a dinosaur is a big job, but you're perfect for it. Why? Because one thing your baby brother wants more than anything . . . is to be just like you.
This one reminded me of a picture book I read very recently—LITTLE DRAGON AND THE NEW BABY, to be published by Sky Pony Press in April.
Here we have a dinosaur whose mother is expecting a baby. The author puts the reader into the dinosaur's ''shoes'', so really, it's YOU who is expecting a baby brother or sister actually.
Your new sibling doesn't know anything about life and living, and certainly not about being a dinosaur, so you have to teach them how to behave and have fun.
Except, it's not very species-specific, meaning that these dinosaurs do all that baby humans do—little out of the ordinary is happening. I wish the author had surprised us with more dinosaur-specific activities to make the kids reading this smile and laugh.
So what I'm saying is that it is not original. Normally I don't bother to find books to compare to the ones I'm reading, but LITTLE DRAGON AND THE NEW BABY came to my mind immediately as I started this story. That should not have happened I think.
But perhaps I am being too harsh right now. It is entertaining and the narration style powerful. It holds your attention without you having to force yourself to read it and it is entirely pleasant to the eye. Not bad. Though again, could have been more.
Follow me on:
Youtube | Twitter| Instagram | Google+ | Goodreads | Bloglovin'