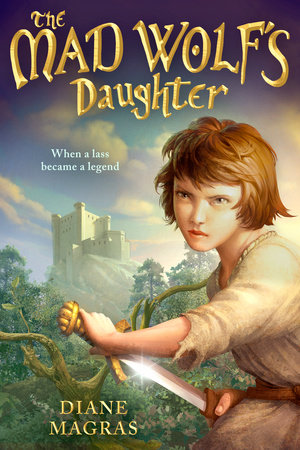 The Mad Wolf's Daughter by Diane Magras
My rating: 2 of 5 stars
Received: Publisher
First Published: March 6th, 2018
Publisher: Kathy Dawson Books
Recommended Age: 10+
Pacing: Normal
Genres & Themes: Middle Grade, Fantasy, Adventure, Medieval
---
BLURB:
One dark night, Drest's sheltered life on a remote Scottish headland is shattered when invading knights capture her family, but leave Drest behind. Her father, the Mad Wolf of the North, and her beloved brothers are a fearsome war-band, but now Drest is the only one who can save them. So she starts off on a wild rescue attempt, taking a wounded invader along as a hostage. Hunted by a bandit with a dark link to her family's past, aided by a witch whom she rescues from the stake, Drest travels through unwelcoming villages, desolate forests, and haunted towns. Every time she faces a challenge, her five brothers speak to her in her mind about courage and her role in the war-band. But on her journey, Drest learns that the war-band is legendary for terrorizing the land. If she frees them, they'll not hesitate to hurt the gentle knight who's become her friend.
I don't find anything about this story original.
It's the sort of over-published book you find in your packed boxes two years after moving into your new home. You take it out of the box, as you finally decided to unpack some of the old stuff (yay you!), and you can't help but ask yourself, ''Ugh, why did I buy this in the first place? It seemed like such a good idea at the time but it's so not worth the money it cost.''
It begins in a confusing way: there are enemies invading Drest's father's territory and her whole family is being kidnapped. Who are they? We don't know. Why? We don't know. It sounds straight-forward when I explain it, but the reading part is different, especially since we know nothing about the characters in the beginning. It was too much, too soon. But anyway, Drest, the passionate and overconfident girl that she is, decides to journey for six days to a castle in order to bring her family back with the hope that they are still alive by the time she gets there.
I'm fine with this sort of story arc, regardless of the fact that it's been done a thousand times before. I don't think I could ever get tired of characters setting off to an unknown place to save their family, friends or loved ones, because it is such a noble course of action. These storylines keep you guessing, usually, and they can be emotional and even fun to witness.
But for that to happen, the one doing the search must be determined (Drest is), have a great sidekick (Drest doesn't) and make us care for the ones needing a rescue team (of which Drest does a so-so job). We barely start to get to know Drest's father and brothers when they suddenly disappear. And while it was charming for Drest to hear the voices of her family members in her head at first, it became unnecessary after some time. Her thoughts are often… not her own.
She is traveling with an enemy knight, supposedly her captive, but more like a companion is my opinion. I enjoyed the writing style as well as the short and structured chapters. I felt like this story was indeed going somewhere and I had no problem following Drest's adventure once it began.
However, I could not bring myself to care very much for Drest herself, her brothers or her father, who we quickly learn is not who she thought he was. It also takes a while for us to even learn why he was taken in the first place. Normally I could accept that, but I truly was confused in the beginning. No one invades another territory and takes captives without a reason in mind.
Last thing: Am I the only one who was disappointed to learn that this is in no way connected to the Big Bad Wolf?
Follow me on:
Youtube | Twitter| Instagram | Google+ | Goodreads | Bloglovin'