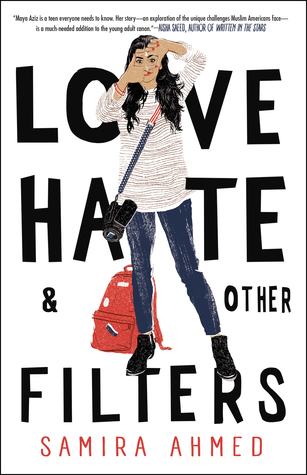 Love, Hate & Other Filters by Samira Ahmed
My rating: 3 of 5 stars
Received: Distributor
Published: January 16th, 2018
Publisher: Soho Teen
Recommended Age: 12+
Pacing: Slow
Genres & Themes: Young Adult, Romance, Islamophobia, High School
---
BLURB:
American-born seventeen-year-old Maya Aziz is torn between worlds. There's the proper one her parents expect for their good Indian daughter: attending a college close to their suburban Chicago home, and being paired off with an older Muslim boy her mom deems "suitable." And then there is the world of her dreams: going to film school and living in New York City—and maybe (just maybe) pursuing a boy she's known from afar since grade school, a boy who's finally falling into her orbit at school. There's also the real world, beyond Maya's control. In the aftermath of a horrific crime perpetrated hundreds of miles away, her life is turned upside down. The community she's known since birth becomes unrecognizable; neighbors and classmates alike are consumed with fear, bigotry, and hatred. Ultimately, Maya must find the strength within to determine where she truly belongs.
I was anticipating this release. Islamophobia is so present in our society today that I find it important to have teen books with Muslim main characters that can give us their opinion on the issue and make us understand how they feel living in a world in which they are often seen as ''other'', ''illegal'' and even ''terrorist''.
This is then a story that matters. Maya, the seventeen-year-old Muslim-American heroine of this book, matters. Her voice is strong and her feelings are true. She sheds light where is needed and welcomes us, the reader, into her life with open arms. She is kind and patient, even when the world seems to be against her. She is important.
Now I can praise the author for discussing Islamophobia in a non-aggressive and effective manner all day, but unfortunately, we must also discuss the romance since it takes a lot of space in the story. This is understandable, seeing that Maya is seventeen—and most of us were thinking about love at that age as well. However, her juggling two boys—going after a boy that already has a girlfriend, while leading another one on—turned me off.
I can't exactly blame Maya for letting herself fall in love with someone in a relationship, as she is young and the heart wants what it wants, but I was not charmed by the romance. Maya was, obviously, and I say good for her, but seeing her with the other boys really didn't make me feel any particular way, except a tiny bit annoyed by the fact that she didn't feel more remorseful about spending a considerate amount of time with a boy already in a relationship. The girl, who is in the dark about her boyfriend's dates with Maya, deserves some respect, even if she's not The One.
Mixed thoughts, mixed emotions. Honest and relevant, but not without flaws.
Follow me on:
Youtube | Twitter| Instagram | Google+ | Goodreads | Bloglovin'