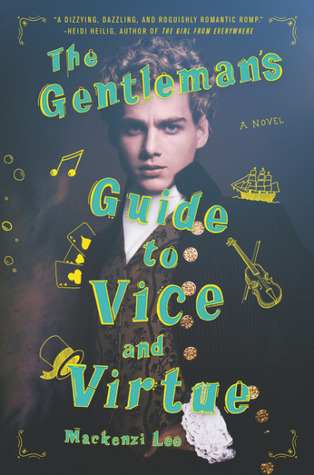 The Gentleman's Guide to Vice and Virtue by Mackenzi Lee
My rating: 2 of 5 stars
Received: Publisher
First Published: June 27th, 2017
Publisher: Katherine Tegen Books
Recommended Age: 12+
Pacing: Fast
Genres & Themes: Young Adult, LGBT, Fantasy, Adventure, Humour, Romance
---
BLURB:
Henry "Monty" Montague was born and bred to be a gentleman, but he was never one to be tamed. The finest boarding schools in England and the constant disapproval of his father haven't been able to curb any of his roguish passions—not for gambling halls, late nights spent with a bottle of spirits, or waking up in the arms of women or men. But as Monty embarks on his Grand Tour of Europe, his quest for a life filled with pleasure and vice is in danger of coming to an end. Not only does his father expect him to take over the family's estate upon his return, but Monty is also nursing an impossible crush on his best friend and traveling companion, Percy. Still it isn't in Monty's nature to give up. Even with his younger sister, Felicity, in tow, he vows to make this yearlong escapade one last hedonistic hurrah and flirt with Percy from Paris to Rome. But when one of Monty's reckless decisions turns their trip abroad into a harrowing manhunt that spans across Europe, it calls into question everything he knows, including his relationship with the boy he adores.
Percy should have been the narrator of this book.
What does Henry have to give? Silliness and cluelessness. He eventually does gain *some* maturity, but never enough to deserve a newfound respect and admiration from me.
The key to loving this book is loving its humour. If that element works for you, and you don't mind that Henry would rather drink all day and frolic all night, you're the right reader for this story.
I did not love the romance either. It never made me swoon, let alone sweep me off my feet. It's just… there. I kept thinking, Percy deserves someone who doesn't play games and will treat him like he is the world's 8th wonder. Not someone who lies and pretends.
Everything about Henry screams privilege. Percy is darker-skinned, therefore he cannot allow himself to behave erratically, but he also isn't the type to do so. He is more laid-back, quiet and a he thinks before he speaks/behaves.
Now that doesn't mean that this is not an entertaining book. It is fast-moving, because the action comes from everywhere. No one is lethargic and everyone contributes *almost* equally to the events. Felicity and Percy are wonderful.
But when you don't like/can't connect to the hero, whose voice is the first you hear and whose humour makes you cringe, it's hard to close a book with hearts in your eyes. It's hard to even let yourself enjoy the other elements. This was never for me. I gave into the hype, but I should have recognized Henry and I were not meant to be from the very first date.
Follow me on:
Youtube | Twitter| Instagram | Google+ | Goodreads | Bloglovin'