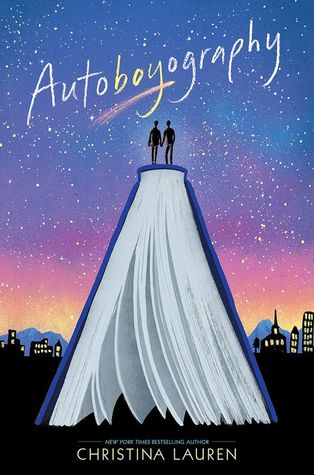 Autoboyography by Christina Lauren
My rating: 4 of 5 stars
Received: Publisher
First Published: September 12th, 2017
Publisher: Simon & Schuster BFYR
Recommended Age: 12+
Pacing: Normal
Genres & Themes: Young Adult, LGBT, Religion, Writing, Friendship, Family
---
BLURB:
Three years ago, Tanner Scott's family relocated from California to Utah, a move that nudged the bisexual teen temporarily back into the closet. Now, with one semester of high school to go, and no obstacles between him and out-of-state college freedom, Tanner plans to coast through his remaining classes and clear out of Utah. But when his best friend Autumn dares him to take Provo High's prestigious Seminar—where honor roll students diligently toil to draft a book in a semester—Tanner can't resist going against his better judgment and having a go, if only to prove to Autumn how silly the whole thing is. Writing a book in four months sounds simple. Four months is an eternity. It turns out, Tanner is only partly right: four months is a long time. After all, it takes only one second for him to notice Sebastian Brother, the Mormon prodigy who sold his own Seminar novel the year before and who now mentors the class. And it takes less than a month for Tanner to fall completely in love with him.
His smile ruins me.
Watching Tanner and Sebastian fall in love felt like privilege. Mostly because they were so beautiful together I couldn't shake the feeling that I should consider myself lucky to be able to witness such magic. My goodness… romance stories turn me to mush.
Though I'm surprised I managed to enjoy—love, actually—this book. After all, I will answer to anyone who asks that no, I in no way find insta-love realistic. And yet, this is what Tanner feels for Sebastian and vice versa.
Yet somehow, Christina Lauren managed to not make me want to burn this book… which just proves that it's not about the subject, it's about the execution. Not many can pull this off. This is why in many cases insta-love is detestable.
In this particular one, it's forgivable and even easy to shrug off. It wasn't something I dwelled on as I read the story, since the important part was how their relationship developed not how it started, but I wanted to mention it here so you know that while it's a slow-burn, it's also somewhat sudden.
It's simple: I want what Tanner and Sebastian have.
I could do without the drama, because I don't wish this turmoil that affects both characters on anyone, let alone myself, but if it's an all or nothing scenario, I'll take that too. What Tanner and Sebastian have is very precious.
It took me a heartbeat to become captivated by this book. It's well-written, engaging and meaningful. This is my first story from Christina Lauren, but this duo has me in their palm already. Next time they release a YA book, I'll be the first to read it.
Follow me on:
Youtube | Twitter| Instagram | Google+ | Goodreads | Bloglovin'