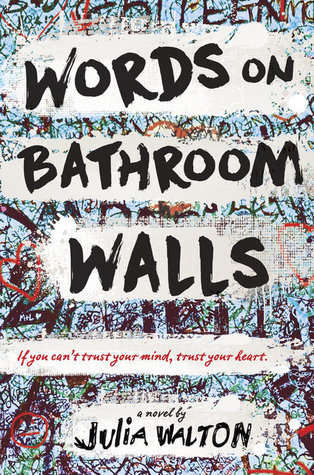 Words on Bathroom Walls by Julia Walton
My rating: 4 of 5 stars
Received: Publisher
First Published: July 4th, 2017
Publisher: Random House
Recommended Age: 12+
Pacing: Normal
Genres & Themes: Young Adult, Mental Illness, Contemporary, High School, Romance
---
BLURB:
Adam has just been diagnosed with schizophrenia. He sees and hears people who aren't there: Rebecca, a beautiful girl who understands him; the Mob Boss, who harasses him; and Jason, the naked guy who's unfailingly polite. It should be easy to separate the real from the not real, but Adam can't. Still, there's hope. As Adam starts fresh at a new school, he begins a drug trial that helps him ignore his visions. Suddenly everything seems possible, even love. When he meets Maya, a fiercely intelligent girl, he desperately wants to be the great guy that she thinks he is. But then the miracle drug begins to fail, and Adam will do anything to keep Maya from discovering his secret.
Adam is schizophrenic.
For those who haven't read much about this mental illness and perhaps do not fully understand it, this is such an important book.
I am one of those people. Correction, I WAS one of those people.
The first time I met a schizophrenic character was a few years ago by watching Grey's Anatomy. In the episode in question, the guy suffering from this illness was very unpredictable and aggressive.
And I admit, I was afraid of the guy and afraid for those who came in contact with him.
Not once, however, was I afraid of Adam. Actually, most of the time, like his mother, I was afraid FOR him because I began to understand that there was a much higher chance that he hurt himself than that he hurt somebody else.
What was not mentioned in the Grey's Anatomy episode was that there are different – though not all successful – medications available for schizophrenic people. Adam here is part of an experimental trial that offers him a chance to keep his hallucinations in check or at least be aware that they are in fact hallucinations as opposed to real life.
It's impossible not to feel for Adam. Even if you are somewhat afraid of him in the beginning, believe me when I tell you that you will fall in love with him gradually and deeply. His humor is refreshing and his voice very realistic.
A winner for sure.
Follow me on:
Youtube | Twitter| Instagram | Google+ | Goodreads | Bloglovin'