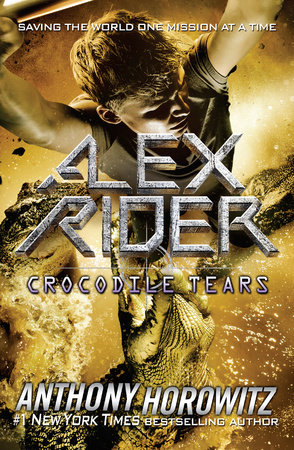 Crocodile Tears by Anthony Horowitz
My rating: 4 of 5 stars
Received: Publisher
First Published: 2009
Publisher: Puffin Books
Recommended Age: 12+
Pacing: Normal
Genres & Themes: Young Adult, Action
---
BLURB:
It's just another day in the life of an average kid. If you're Alex Rider, that is. A con artist has realized there is big money in charity: the bigger the disaster, the greater the money flow! So that is what he will produce: the biggest disaster known to man, all thanks to genetically modified corn that can release a virus so potent it can knock out an entire country in one windy day. But Alex Rider will face whatever it takes – gunfire, explosions, hand-to-hand combat with mercenaries – to bring down his most dangerous adversary yet.
Whenever I get a bad read—a read that really disappointed me and even made me question whether I enjoy a genre or not—I like to turn to an all-time favorite or a book that I am quite certain I will enjoy.
I like to turn to Alex Rider or The Mortal Instruments. In this case, I needed action more than I needed fantasy, so I decided to continue with this series. The book in question that bummed me out was Steelheart by Brandon Sanderson, and Alex reminded me that a reader can become very attached to a fictional character.
Because that's how attached I am to this particular one. I will never read this series because I find the mystery cases to be astounding. This is a character-driven story as much as it is an action-driven one.
In this tome, Alex Rider has to stop a villain—someone who everyone believes is a saint—from causing more damage to the population and the earth itself. MI6 is still in the game, which I'm happy about, since they've become a familiar organization in my and Alex's eyes.
I'm glad Sabina Pleasure is also still in the picture, though am I the only who really wishes she and Alex would do a mission together someday? Who cares that the series is literally called ALEX RIDER? He needs people on his side. Even though Ash turned out not to be the one Alex thought he was, it was interesting to see Alex interact with him on their mission together.
On to the next one!
Psssst. Alex Rider will be fifteen in the next book. That's somewhat of a miracle…
Follow me on:
Youtube | Twitter| Instagram | Google+ | Goodreads | Bloglovin'