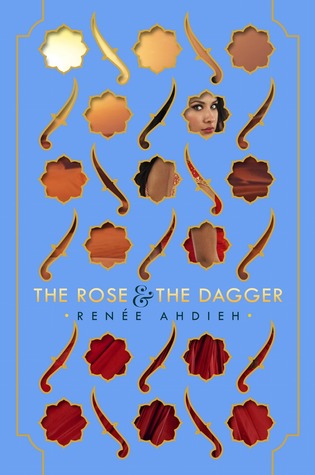 The Rose & the Dagger by Renée Ahdieh
My rating: 4 of 5 stars
Received: Publisher
First Published: April 26th, 2016
Publisher: Putnam
Recommended Age: 12+
Pacing: Normal
Genres & Themes: Young Adult, Fantasy, Romance, War-Setting
---
BLURB:
In a land on the brink of war, Shahrzad is forced from the arms of her beloved husband, the Caliph of Khorasan. She once thought Khalid a monster—a merciless killer of wives, responsible for immeasurable heartache and pain—but as she unraveled his secrets, she found instead an extraordinary man and a love she could not deny. Still, a curse threatens to keep Shazi and Khalid apart forever. Now she's reunited with her family, who have found refuge in the desert, where a deadly force is gathering against Khalid—a force set on destroying his empire and commanded by Shazi's spurned childhood sweetheart. Trapped between loyalties to those she loves, the only thing Shazi can do is act. Using the burgeoning magic within her as a guide, she strikes out on her own to end both this terrible curse and the brewing war once and for all. But to do it, she must evade enemies of her own to stay alive.
I wonder what a conversation with Renée Adhieh would be like.
I could picture her in front of me, drinking tea perhaps, in a graceful manner and, of course, telling stories as though reliving them on the spot. As for me? I would be the listener, enraptured by her words, nodding my head every two seconds, my body still and my eyes fixed on her.
Except that would not be a conversation exactly, now would it? And I'm guessing my staring would be borderline creepy. Though there is no shame in being star-struck… especially when the star in question is a gifted storyteller.
There is something about the way this author forms her sentences and expresses emotions in her stories that has me thinking magic is real. I know I sound cheesy right now and probably deserve a couple of eyes rolling at me. That's fine, I can take it. Go ahead.
But I so mean it. I can find a dozen things that are wrong with this sequel—plot holes, unconvincing politics, convenient outcomes, Tariq and Khalid's new relationship, Shazi's underwhelming and unused magical abilities—but somehow Miss Ahdieh's storytelling swept me off my feet in such a manner that all of these imperfections were dismissed from my mind by the part of me that wanted to consume more words signed Renée Ahdieh.
This goes back to my fictional conversation with the author presented above. I don't know if you've noticed—you may have—but this book is made of 70% of dialog. There is little action and adventure, perhaps because conversation is its essence. Proof? The characters manipulate and overthrow with their words, rarely with their swords. Even the few stories told are done so orally.
Since I oh so enjoyed listening to what the characters had to say—and by extension the author herself—I couldn't have been happier reading this book. I made this realization only now as I'm writing this review. And now that I think about it, most books I end up disliking have little or tedious discourse between characters.
Character and conversation-driven story. Loved it.
Follow me on:
Youtube | Twitter| Instagram | Google+ | Goodreads | Bloglovin'