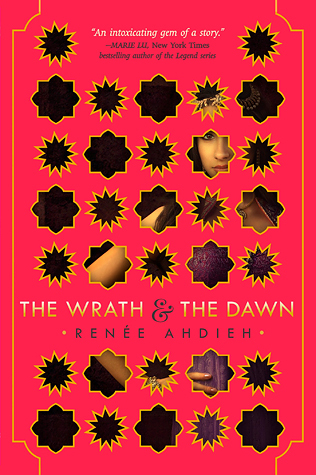 The Wrath and the Dawn by Renée Ahdieh
My rating: 4 of 5 stars
Received: Publisher
First Published: May 12th, 2015
Publisher: Putnam BFYR
Recommended Age: 12+
Pacing: Slow
Genres & Themes: Young Adult, Fantasy, Romance, Retelling, War-Setting
---
BLURB:
In a land ruled by a murderous boy-king, each dawn brings heartache to a new family. Khalid, the eighteen-year-old Caliph of Khorasan, is a monster. Each night he takes a new bride only to have a silk cord wrapped around her throat come morning. When sixteen-year-old Shahrzad's dearest friend falls victim to Khalid, Shahrzad vows vengeance and volunteers to be his next bride. Shahrzad is determined not only to stay alive, but to end the caliph's reign of terror once and for all.

I will live to see tomorrow's sunset. Make no mistake. I swear I will live to see as many sunsets as it takes.
And I will kill you.
With my own hands.

Here's what happened: I was almost halfway through this book when I realized that it was slightly late, that the next day I would have to go to work early in the morning and that we humans need sleep in order to survive through the day. So, as a farewell to the book and because my curiosity took over, I decided to open the book at a random remaining page and read the first quote my eyes would lay on.
Of course, it had to be that quote. You know what I mean, the kind of sentence that you just feel would illustrate an important turning point in the story. You probably already know what I did next, don't you? I couldn't for the life of me stop there, even if I needed to, because I would not have been able to sleep with so many thoughts in my mind. And that's how I finished this book in a single night. (Pssst, I'm glad you couldn't see me the next morning.)
THAT SAYS A LOT.
I personally don't just go around sacrificing my sleep for any book. It has to be worth the tiredness, squinted eyes and overall grogginess we usually experience the next day. I regret nothing.
Ahdieh, what did you do to me? Now I know I have to read her books in the daylight and if possible on a day without school or work.
Follow me on:
Youtube | Twitter| Instagram | Google+ | Goodreads | Bloglovin'