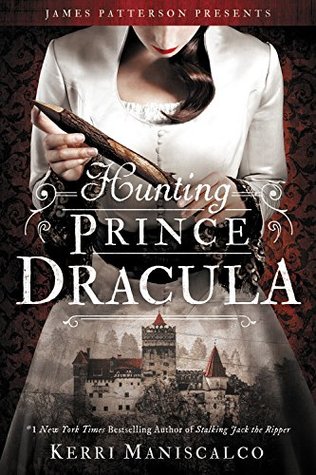 Hunting Prince Dracula by Kerri Maniscalco
My rating: 4 of 5 stars
Received: Publisher
First Published: September 19th, 2017
Publisher: Little, Brown and Company
Recommended Age: 12+
Pacing: Slow
Genres & Themes: Young Adult, Historical Fiction, Mystery, Romance, Folklore
---
BLURB:
In this New York Times bestselling sequel to Kerri Maniscalco's haunting #1 debut Stalking Jack the Ripper, bizarre murders are discovered in the castle of Prince Vlad the Impaler, otherwise known as Dracula. Could it be a copycat killer…or has the depraved prince been brought back to life?
Oh yes, this is what I'm talking about. I almost didn't read this sequel, because I struggled to finish the first book, but I'm Romanian so I was curious to see how Kerri Maniscalco would present my homeland as well as its history.
Overall, she did a good job. Obviously she consulted with Romanian speakers because she didn't make any mistakes in the writing of the language. Thank goodness as I really hate to have to mention when they do in my reviews and it can very much be a deal breaker in some cases.
I was interested in this mystery from day one. There are a couple of deaths under mysterious circumstances occurring and the population believes their centuries-dead Prince Vlad Dracula is behind the attacks.
Just to make things clear, while this historical figure inspired Bram Stoker's novel, Vlad Dracula was not a vampire. Because of the gruesome ways he employed to kill his enemies, some entertained the idea, but alas (or fortunately) he was not a creature pertaining to the fantasy world.
But I liked that this book did indeed entertain the idea. It made me wonder if maybe someone hunted for prey as a vampire would or fancied themselves to be the latter. I couldn't know for sure, but I was simply happy to know as much as Audrey and her sidekick did.
It's probably wrong for me to call him a ''sidekick,'' seeing that he is important to the story and helps find answers as much as Audrey does, but am I the only one who is tired of the sarcastic flirty comments? I'm surprised I even minded them, as I normally enjoy clever back-and-forths, but I had the feeling Thomas Cresswell tried too hard to become the next Will Herondale.
Good thing he cares about Audrey in a truthful way, even though he makes annoying mistakes, otherwise I would not have been able to tolerate him. Perhaps the number of comments will decline in the future tomes? Eh, I doubt it.
It was a pleasure to read this mystery. However, it is not terrifying or worth being categorized as a ''horror'' story. Only the spiders made me want to read faster, but then again I had so many spiders in my room last summer that now instead of scaring me they're just being bothersome. In a pros and cons list, this would be a pro by the way. I prefer not to have nightmares, thank you very much.
But to go back to the storyline, I especially enjoyed and appreciated the Romanian culture, history and folklore incorporated. No wonder I love fantasy; I come from a place with a past most peculiar. While I was eager for Audrey to undercover the identity of the murderer, I took pleasure in the journey. That's the most important part. The ending lasts only a couple of pages, but the journey lasts a couple of hundreds of pages.
I feel as though I understand Audrey and Thomas much, much better after today. In the predecessor, we are introduced to Audrey's family, but in this sequel, we are introduced to Thomas'. Some lovely new faces—and some you'll want to forget.
I sure can't wait to see what else the author has in store for us. To America!
Follow me on:
Youtube | Twitter| Instagram | Google+ | Goodreads | Bloglovin'