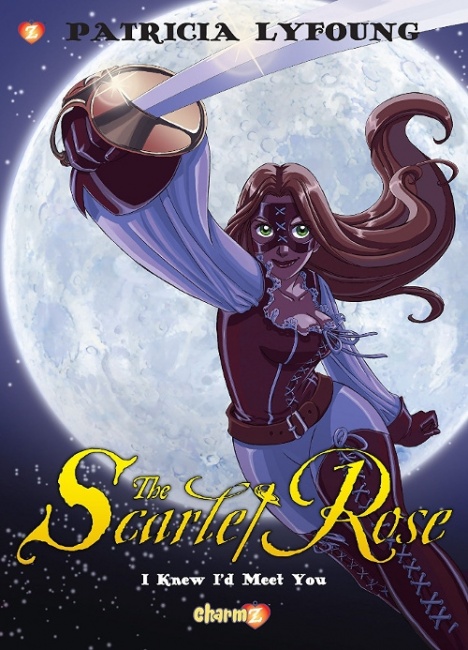 The Scarlet Rose, Vol. 1 by Patricia Lyfoung
My rating: 4 of 5 stars
Received: Distributor
Publication Date: September 5th, 2017
Publisher: Charmz
Recommended Age: 12+
Pacing: Fast
Genres & Themes: Young Adult, Graphic Novel, Action, Adventure, Mystery, Humor
---
BLURB:
Maud is quite happy living her simple life with her father and learning the exciting art of sword fighting. But when her father is murdered, Maud is whisked away from the life she knows by her rich and lordly grandfather. He wants to give her a home – on his terms – and help Maud become a real lady. All Maud wants to do is keep on fighting, so that she can have her revenge on her father's killer.
High adventure and historical fiction come together in a swashbuckling thriller! Swords, vengeance, and a dashing highwayman known as the Fox comprise the key components to The Scarlet Rose, as Maud learns everything she thought she knew about her life wasn't true, and how to grow and grieve after losing her father. The Scarlet Rose blends exciting, thrilling action with grounded, emotional characterization.
I love Maud.
I actually started this series a long time ago, since the original French version was published almost thirteen years ago, but I was very interested in seeing if it would read as well in English.
And it does, thank goodness. I am so happy this series was translated to English, because this way more people can be introduced to it. It's such a gorgeous graphic novel (called "bande dessinée" in French). I am a huge fan of Patricia Lyfoung's art and stories.
I am probably biased as I talk about this story, seeing that this was the first graphic novel series I ever read (at the age of eleven) and I immediately fell in love with Maud. Some of you probably won't like her, given that she is naïve and a little too unconcerned about her own personal safety, but it's impossible not to be entertained by her crazy escapades and charmed by her love of life and all that is just.
This graphic novel contains the first two volumes of the French version of The Scarlet Rose series. I actually don't mind that the publication house decided to do that, as the format of this book is much smaller than the original books and this way there is more content in one book.
This is only the beginning of Maud's tale—there is much more to be discovered. I have to say that there is never any mystery about The Fox's identity. Maud only learns the truth at the very end of this volume, but we readers can guess early on. Usually, I don't enjoy knowing more than the main character herself, but in this case I did not mind, because Maud's reactions are so much fun I couldn't wait for her to learn the truth. The building up to the revelation is pretty well done.
A very addictive story.
Follow me on:
Youtube | Twitter| Instagram | Google+ | Goodreads | Bloglovin'