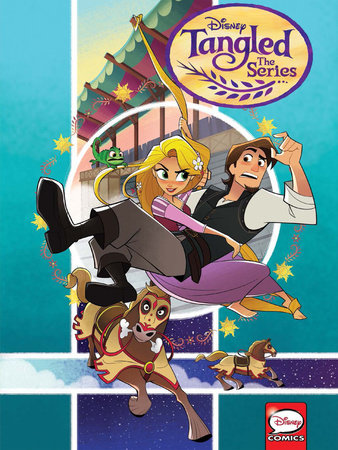 Tangled: The Series – Adventure is Calling by Scott Peterson
My rating: 4.5 of 5 stars
Received: Distributor
First Published: October 24th, 2017
Publisher: IDW Publishing
Recommended Age: 7+
Pacing: Normal
Genres & Themes: Children's, Comics, Adventure, Humour, Action
---
BLURB:
All Rapunzel ever wanted was to find her place in the world. But now that she has, what will she do when she hears the call of adventure?
The hit Disney Channel animated series comes to comics! Join Rapunzel and her friends Eugene, Pascal, and Maximus as she finds her way in the kingdom of Corona! But will she be able to be a princess, make her family happy, and ALSO follow her adventurous heart?
I am so excited that there is an animated Tangled series. I checked and the series was renewed for a second season. Hurray!
But truth be told, I hadn't realized there was one until I picked this book up. After I finished it, I immediately went to watch the Tangled series movie to compare and see if the series would be as amazing as this book.
Oh, it is. It's even more amazing. The thing is, this comic contains an adaptation of the Tangled series movie, but the rest is completely new and fresh. The adaptation itself reads well, but of course the movie is much more detailed and fun.
Regardless, this is a treasure. The illustrations are GORGEOUS and the short slice-of-life stories featuring Rapunzel, Eugene, Cassandra and the royal characters are very entertaining. My favourite is the one in which Rapunzel saves Eugene's life and Eugene creates a situation in which HE, for once, saves someone.
I can't wait for the second comic of the series in 2018. I do hope there won't be adaptations this time, because they are not as good as the real animated versions, but one here and there is not the end of the world either.
More than recommended.
Follow me on:
Youtube | Twitter| Instagram | Google+ | Goodreads | Bloglovin'