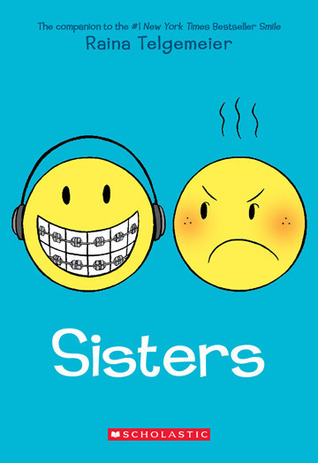 Sisters by Raina Telgemeier
My rating: 4 of 5 stars
Received: Distributor
First Published: August 26th, 2014
Publisher: Graphix
Recommended Age: 10+
Pacing: Fast
Genres & Themes: Middle Grade, Graphic Novel, Siblings, Humor, Memoir
---
BLURB:
Raina can't wait to be a big sister. But once Amara is born, things aren't quite how she expected them to be. Amara is cute, but she's also a cranky, grouchy baby, and mostly prefers to play by herself. Their relationship doesn't improve much over the years, but when a baby brother enters the picture and later, something doesn't seem right between their parents, they realize they must figure out how to get along. They are sisters, after all.
Raina and Amara's relationship:
This is a companion novel to Smile, which I really liked and absolutely recommend. What is great about these works is that they're based on true events that the author herself lived through when she was a teenager.
It's mainly about her (Raina) and her sister's (Amara) relationship and how they overcome their differences, given that they both have different personalities and centers of interest – and this is bound to create tensions.
The plot isn't extremely complex, and it does feel familiar, but in my opinion this is where its charm comes from, seeing that it's very easy to understand what we see and connect with the characters because this is something many of us have experienced before.
Raina is a character you will easily love and her sister one you will easily despise. At first, at least. She was a monster when she was younger, but in many ways cute and funny. Luckily, she undergoes a noticeable character development.
When I was a kid, I kept wanting a sister to play with, exactly like Raina. I wanted to share the kind of relationship we see sisters share on TV, for example in the Charmed TV show (which is one of my favourites). Well, I only ever had my brother. But that's okay, since regardless of the fights we have, I wouldn't switch my brother for a sister. Ever.
This graphic novel will appeal to a lot of readers, especially middle graders and people who want to read a cute family-themed story. Very recommended.
Follow me on:
Youtube | Twitter| Instagram | Google+ | Goodreads | Bloglovin'