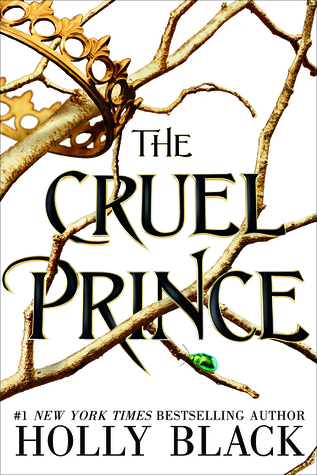 The Cruel Prince by Holly Black
My rating: 4 of 5 stars
Received: Publisher
First Published: January 2nd, 2018
Publisher: Little, Brown BFYR
Recommended Age: 13+
Pacing: Fast
Genres & Themes: Young Adult, Fantasy, Faeries, Adventure, Romance, Action, Dark
---
BLURB:
Jude was seven years old when her parents were murdered and she and her two sisters were stolen away to live in the treacherous High Court of Faerie. Ten years later, Jude wants nothing more than to belong there, despite her mortality. But many of the fey despise humans. Especially Prince Cardan, the youngest and wickedest son of the High King.
To win a place at the Court, she must defy him–and face the consequences.
In doing so, she becomes embroiled in palace intrigues and deceptions, discovering her own capacity for bloodshed. But as civil war threatens to drown the Courts of Faerie in violence, Jude will need to risk her life in a dangerous alliance to save her sisters, and Faerie itself.
You know a story is good when, at night, before falling asleep, you eagerly replay the story in your mind, but this time with you as the main character living an exciting adventure full of intrigue, danger and romance.
It's one of my preferred ways of falling in the arms of Morpheus.
What we have here is Holly Black's best work if I dare say so myself. I am amazed with this author's ability to paint scenes of faerie romance, glamour, deception and terror that make your heart pound and stop, pound and stop, pound and stop. I'm glad she experimented so much with the faerie world in the past, because it led her to write this precious book.
Holly Black doesn't reinvent faeries, but she does give them flair. Before I came across her stories, I thought of faeries as annoying little snickering creatures you have to try hard not to step on.
But these faeries are… powerful and sexy. They're in full control, because the story is set in their territory. This isn't about faeries invading the human world; it's about a human girl doing everything she can to gain strength against the creatures who have kept her from having a normal, human childhood.
Jude is so flawed it's beautiful. She doesn't pretend to be strong, she knows she isn't. Still, she tries to be and tries harder than anyone else, because she knows her species is at a disadvantage. She lies, she cheats, she kills. There is nothing she isn't willing to do if it means accomplishing her goals. At the same time, she is not unreasonable and devoid of compassion.
I loved her dark side.
One element that could have been better is the writing. Don't get me wrong, it's very addictive and effective, since it manages to crawl deep into your soul, but the syntax is far from perfect (e.g. Mom screamed. Jude screamed. Taryn and Vivi screamed. Everyone seemed to be screaming, except the tall man. page 5). I'm all for writers taking certain liberties, but this is pushing it. I needed to mention this, because while I do think this book is a great addition to the fantasy genre, I will always value a book with beautiful, well-formed sentences more.
Anyhow, read this if you're in need of a fast-paced, unstoppable adventure.
Follow me on:
Youtube | Twitter| Instagram | Google+ | Goodreads | Bloglovin'