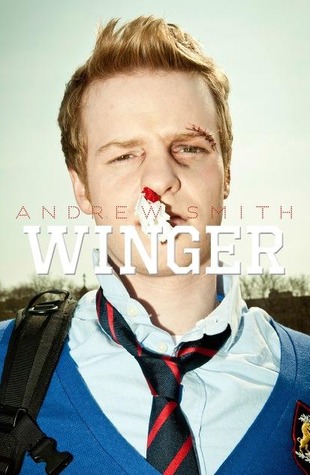 Winger by Andrew Smith
My rating: 4 of 5 stars
Received: Bought
Publication Date: May 14th 2013
Publisher: Simon & Schuster
Point of View: 1st Person & Masculine
Recommended Age: 11+
Genres & Themes: Young Adult, Contemporary, Romance, Humour, Boarding School, Friendship, LGBT
BLURB:
Ryan Dean West is a fourteen-year-old junior at a boarding school for rich kids in the Pacific Northwest. He's living in Opportunity Hall, the dorm for troublemakers, and rooming with the biggest bully on the rugby team. And he's madly in love with his best friend Annie, who thinks of him as a little boy.
With the help of his sense of humor, rugby buddies, and his penchant for doodling comics, Ryan Dean manages to survive life's complications and even find some happiness along the way. But when the unthinkable happens, he has to figure out how to hold on to what's important, even when it feels like everything has fallen apart.
Filled with hand-drawn info-graphics and illustrations and told in a pitch-perfect voice, this realistic depiction of a teen's experience strikes an exceptional balance of hilarious and heartbreaking.
REVIEW:
Ah, Ryan Dean, Ryan Dean, Ryan Dean. He's definitely not your usual contemporary YA hero. Actually, this whole book is a breath of fresh air. Set at a boarding school for both boys and girls, "Winger" illustrates the life of a fourteen-year-old boy in love with his super hot sixteen-year-old best friend, Annie, and his way of coping with being put in the same dorm as someone he's afraid might strangle him in his sleep.
Ryan might come off as an immature, obsessed with the idea of sex and troublemaker kind of guy… and I will admit that a part of him is indeed like that. But in the other part you will find a shy, intelligent and lively boy who has the belief of CARPE DIEM at heart. And did I mention he's an artist? This book is like his journal and sometimes he just likes drawing random (but pretty) images that represent his thoughts or state of mind.
I was absolutely engrossed by his adventures and charmed by his feelings toward Annie. I can't say I approve of everything he does or says, because I really don't, but I appreciated his being honest with us and not concealing his opinions. He's a character that will get under your skin, that's for sure. And the best part is that you will like his friends and the other secondary characters as well! Annie slightly gets on your nerve when it comes to her talking about her feelings toward Ryan, and that's why I dropped a star from my rating, but I managed to connect with her.
The story is relatively light, even though there are events happening that are not worth laughing over… and especially not the ending… But, overall, you're just going to have so much fun with this book and Ryan. I'm extremely excited to read the sequel because I really don't want to let go of him just yet, especially not after what happened. Hopefully, you'll give this book a chance, too.