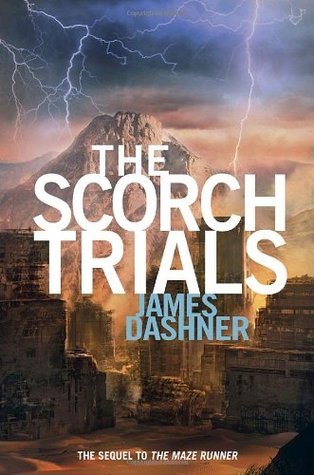 The Scorch Trials by James Dashner
My rating: 2 of 5 stars
Received: Bought
Publication Date: October 12th 2010
Publisher: Delacorte Press
Point of View: 3rd Person
Recommended Age: 12+
Genres & Themes: Young Adult, Dystopia, Romance
BLURB:
Solving the Maze was supposed to be the end.
Thomas was sure that escape from the Maze would mean freedom for him and the Gladers. But WICKED isn't done yet. Phase Two has just begun. The Scorch.
There are no rules. There is no help. You either make it or you die.
The Gladers have two weeks to cross through the Scorch—the most burned-out section of the world. And WICKED has made sure to adjust the variables and stack the odds against them.
Friendships will be tested. Loyalties will be broken. All bets are off.
There are others now. Their survival depends on the Gladers' destruction—and they're determined to survive.
REVIEW:
How can an author start a trilogy with such a fascinating world-building, create endearing and strong characters and build up suspense and intrigue inside a complex and admirable plot…
and then write this?
That's right, I'm extremely disappointed in Mr. Dashner. How could he make Thomas so annoyingly obsessed with that annoying girl he so annoyingly has telepathic conversations with? I.did.not.care.
I did not care about the romance. I did not want any romance. Honestly, I could say I adored the first book, but there's one thing that irked me until the last page and that is the existence of Teresa. I always thought her incongruous presence disrupted the order of things in book one along with its atmosphere. But, well, I was willing leave my differences aside, for the sake of Thomas.
It did not last long. How could she do that? I'm in much disapproval with the plot. I don't care if there is a reason behind what happens, and what Teresa does; I still think it wasn't right and that the man who wrote The Maze Runner could have come up with a less frustrating idea. This felt more like a journey into nothingness that a concrete and eloquent plot.
It's impossible not to lose focus when reading this sequel. I mean, I tried to, I tried very hard, but man does nothing of interest happen. Unlike in the first book, Thomas doesn't slowly build relationships with others around him (new people he meets) … he keeps to himself as much as he can, when Brenda and Teresa are not around and that just remove a lot of the charm I thought he once had. The random people that cross his path are so dull and the dialogs even duller, therefore, my mind often simply diverged.
Because of that, very few secondary characters felt three dimensional to me. And the setting… how depressive it is; an eight-year-old could've imagined the pitiful setting. And those monsters… I really can't wait to see what they look like in the movie. I'm pretty sure I'll get a good laugh out of it. But then again, the producers probably modified them, because come on.
Everyone loves Minho (including myself) but can I just mention how unsexy he is in this? He's always shouting at people or stressing out about a thousand little things. There is danger to freak over, that for sure, but couldn't the author offer us, from time to time, a side of him that's just lovely? Sigh.
There is some good in the story too… such as… the writing! The writing is indeed nice.
I'm still going to read The Death Cure, seeing that I can't just NOT know how it ends.
PS. Thomas, please stop fainting. We're not in the medieval ages and there aren't that many girls acknowledging your presence.