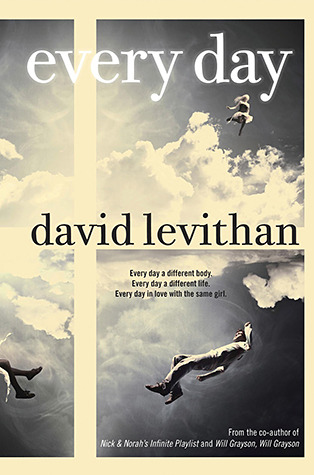 Every Day by David Levithan
My rating: 4 of 5 stars
Received: Publisher
Publication Date: August 28th, 2012
Publisher: Knopf Books for Young Readers
Point of View: 1st Person
Recommended Age: 13+
Genres & Themes: Young Adult, LGBT, Contemporary, Magical Realism, Romance, Philosophy
---
BLURB:
Every day a different body. Every day a different life. Every day in love with the same girl.
There's never any warning about where it will be or who it will be. A has made peace with that, even established guidelines by which to live: Never get too attached. Avoid being noticed. Do not interfere.
It's all fine until the morning that A wakes up in the body of Justin and meets Justin's girlfriend, Rhiannon. From that moment, the rules by which A has been living no longer apply. Because finally A has found someone he wants to be with—day in, day out, day after day.
Can you imagine waking up every day in the body of someone else? Pretending to be them for a day? Being them for a day? Your soul traveling from body to body, restless.
David Levithan is a very deep type of guy… on his way to becoming a philosopher, as I like to believe. He creates stories that tackle realities of modern life and depicts profound lead characters that have something intelligent and thoughtful to say about the world.
At first, I wasn't convinced about the whole concept. I thought it would make the characters feeble in personality or keep us from getting attached to them, somehow. Man was I wrong! This book isn't a compilation of short stories in the ''slice of life'' style. It's way more than that. This reading felt to me like an introduction to the world and to people who inhabit it.
Since we're honest here, I didn't love everything about it. The romance, most precisely, is what kept me from enjoying it fully and thoroughly, although I am pretty satisfied with the result. I mean, come on, there's such a cheesy love story! I know that Rhiannon is not the first girl A meets but, since he does meet her in the ''first chapter'' (for us) it does feel that way (again, for us). The author tries to make her look especially angelic and special, but she's sadly the kind of girl we've all met dozens (and more) times in our lives.
But, well, it's not like I expected the romance to knock my socks off. And if that's not what you're expecting either, you should end up pretty pleased with the book, too.
Follow me on:
Youtube | Twitter | Instagram | Google+ | Goodreads | Bloglovin'