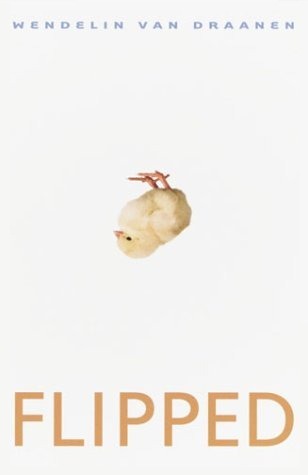 Flipped by Wendelin Van Draanen
My rating: 3.5 of 5 stars
Received: Bought
Publication Date: October 1st 2001
Publisher: Knopf
Point of View: 1st Person & Alternative
Recommended Age: 9+
Genres & Themes: Middle Grade, Contemporary, Love
BLURB:
Flipped is a romance told in two voices. The first time Juli Baker saw Bryce Loski, she flipped. The first time Bryce saw Juli, he ran. That's pretty much the pattern for these two neighbors until the eighth grade, when, just as Juli is realizing Bryce isn't as wonderful as she thought, Bryce is starting to see that Juli is pretty amazing. How these two teens manage to see beyond the surface of things and come together makes for a comic and poignant romance.
REVIEW:
A-D-O-R-A-B-L-E
This is the story of two beautiful kids who learn the true meaning of loving someone through an inventive panoply of mishaps and events. Now this is not your usual boy-meets-girl story and I cannot wait for you to discover why! … Let's just say that the farm thingy is a vital element!
I had a lot of fun reading this book. It is short (true) and a middle grade story (again, true) but it can be enjoyed by readers of all ages! A timeless topic is being tackled and this novel's underlying themes are certainly worth paying attention to.
Juli's adoration for Bryce doesn't have much foundation until a good part of the story, and that's, I think, where the book let down a lot of people (it most certainly feels like an infatuation at first). However, Bryce's emotional responses toward Juli are a blast to follow! First, he hates her. Then, he hates her. Then, he's annoyed with her… Really, it's incredibly cute when a little boy claims he dislikes a little girl who is crazy about him.
The plot itself isn't repetitive and is written with much proficiency: the prose and dialogs give the characters great authenticity and realistic, believable features and personalities. It is such a lovely book to read. It took me more time than necessary, expected to read it, but that has nothing to do with the book itself… because ''Flipped'' by Wendelin Van Draanen is a delight of a read, despite its flaws! I hope the movie lives up to it.