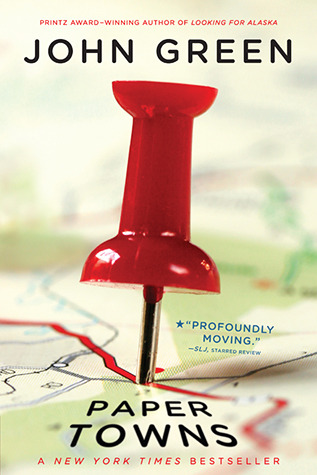 Paper Towns by John Green
My rating: 4 of 5 stars
Received: Bought
Publication Date: September 22nd 2009
Publisher: SPEAK
Point of View: 1st Person & Masculine
Recommended Age: 13+
Genres & Themes: Young Adult, Contemporary, Mystery
BLURB:
Who is the real Margo?
Quentin Jacobsen has spent a lifetime loving the magnificently adventurous Margo Roth Spiegelman from afar. So when she cracks open a window and climbs into his life—dressed like a ninja and summoning him for an ingenious campaign of revenge—he follows. After their all-nighter ends, and a new day breaks, Q arrives at school to discover that Margo, always an enigma, has now become a mystery. But Q soon learns that there are clues—and they're for him. Urged down a disconnected path, the closer he gets, the less Q sees the girl he thought he knew…
REVIEW:
I can see why there are people out there comparing this with Looking for Alaska. I am not going to linger on the comparisons between those two because 1) I never liked Looking for Alaska, 2) I never even finished Looking for Alaska and 3) I thought this book was original enough not to find it some twin brother or sister.
If you've previously read a John Green book, then you're somewhat familiar with his writing style. Isn't it gorgeous? His prose always succeeds in charming me and I don't quite consider myself as an easy target… Lie. I am such an easy target. I am the easiest of targets when it comes to writing style. But still.
Margo Roth Spiegelman disappears with clues behind so smart people can track her. Quentin, a smart and bewitched-by-Margo person, makes it his life quest to find the dear disappearing love of his life and, with the help of his friends, Q embarks on an adventure like never before! I make it all sound very dramatic, but the thing is that it IS extremely dramatic for Q and the story overall pretty intense.
I thought the clues were fun, although there weren't that many. I didn't like that Margo indirectly ruined prom and graduation day for him, although I can only imagine the need to find someone when you think they're dead. The pacing was a little uneven but here, too, there's a nuance to be expressed: there was ''action'' (if I dare call it as such) in the story, there was humor and there was a lot of thinking to be made by Q.
I adore this one message (among many others) that I extracted from the story: a girl is just a girl. HA! Margo was first described by Q as a unique, splendid, otherworldly creature, but really, she was just a lost little girl who didn't know what she wanted, who to be, was relatively tired of living the life she had and just damn liked planning big things and then acting on them (although she liked that a little less, she said so herself).
I very much anticipated the denouement… the moment of revelation… the ending, because this is the type of story that you know would surprise you with the truth. It wasn't the most spectacular ending I've ever had the pleasure of reading and it was, you could say, banal… but it sure as hell surprised me!
Alright, now I'm off to see the movie.
Book Depository | Youtube | Twitter | Instagram | Google+ | Goodreads | Bloglovin'