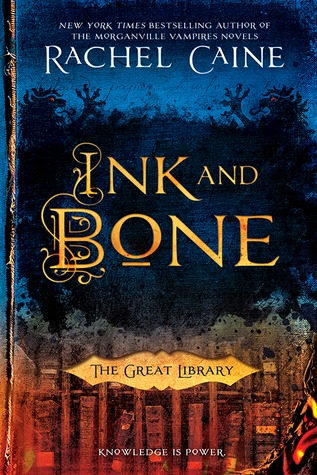 Ink and Bone by Rachel Caine
My rating: 4 of 5 stars
Received: Bought
Publication Date: July 7th 2015
Publisher: NAL
Point of View: 3rd Person
Recommended Age: 13+
Genres & Themes: Young Adult, Dystopia, Fantasy, Books About Books
BLURB:
In an exhilarating new series, New York Times bestselling author Rachel Caine rewrites history, creating a dangerous world where the Great Library of Alexandria has survived the test of time.…
Ruthless and supremely powerful, the Great Library is now a presence in every major city, governing the flow of knowledge to the masses. Alchemy allows the Library to deliver the content of the greatest works of history instantly—but the personal ownership of books is expressly forbidden.
Jess Brightwell believes in the value of the Library, but the majority of his knowledge comes from illegal books obtained by his family, who are involved in the thriving black market. Jess has been sent to be his family's spy, but his loyalties are tested in the final months of his training to enter the Library's service.
When he inadvertently commits heresy by creating a device that could change the world, Jess discovers that those who control the Great Library believe that knowledge is more valuable than any human life—and soon both heretics and books will burn.…
REVIEW:
Phew! What a journey this book was! I've read ''books about books'' before, but nothing comparable to this one. I presently have a great deal of emotions inside me because of this story and, really, I had no idea that this author would be so ruthless! You have no clue how many people die, how many deceptions and manipulations occur. It was a journey because, when you look at the first and last chapters, you realize how much happened, how much changed and how things will never be how they were before.
The beginning was lent, extremely so. I almost regretted buying the hardcover after reading the first chapters. The writing felt so methodical and I simply couldn't find it in myself to care for anyone. Jess lives in a family of book smugglers which, when you think about it, looks pretty darn interesting. For me, things got truly interesting when he got admitted to this special school to study the library and its elements (something I had no idea would happen before starting it – can I just mention that I love delightful surprises and boarding schools?) A very delightful surprise indeed as we met plenty of new characters with unique personalities. From that moment, characters (Jess mostly) stopped feeling one-dimensional and I stopped thinking of the writing as being extremely methodical.
Jess was a character who didn't share much about himself. Since this story was narrated in the third person, you can imagine how that made it difficult to connect or warm up to him. Luckily, him being the hero, after a while you get used to his introverted self and can definitely guess what his feelings can be toward whatever person or situation, since they were rarely thoroughly described, detailed. My favorite characters turned out to be Wolfe and Santi who are both mentors (well, the first is and the second always assisting him). This hopefully doesn't come as a surprise if you know in the slightest bit how I love my characters to be – but you'll understand better when reading. I'm only going to say—yay diversity!
Even if you don't end up caring too evidently about the characters or may guess that you wouldn't, it's still worth reading if only to take a dive into the world-building which, I have to say, was completely engrossing. I bet you'll want to swim for a little while in it. Writing this review, I keep thinking of the fact that the next instalment will be in my hands in about a year and I'm truthfully sad because I really, really came to love so much about this series. Even the Harry Potter similarities (there were a tiny few) didn't bother me in the end, although they struck me during my reading.
A solid book.