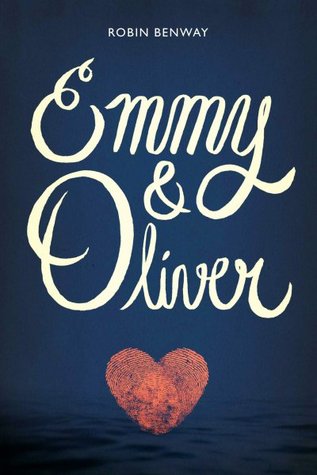 Emmy & Oliver by Robin Benway
My rating: 3 of 5 stars
Received: Borrowed
Publication Date: June 23rd 2014
Publisher: HarperTeen
Point of View: 1st Person & Feminine
Recommended Age: 12+
Genres & Themes: Young Adult, Contemporary, Family, Love, LGBT
BLURB:
Emmy's best friend, Oliver, reappears after being kidnapped by his father ten years ago. Emmy hopes to pick up their relationship right where it left off. Are they destined to be together? Or has fate irreparably driven them apart?
Emmy just wants to be in charge of her own life.
She wants to stay out late, surf her favorite beach—go anywhere without her parents' relentless worrying. But Emmy's parents can't seem to let her grow up—not since the day Oliver disappeared.
Oliver needs a moment to figure out his heart.
He'd thought, all these years, that his dad was the good guy. He never knew that it was his father who kidnapped him and kept him on the run. Discovering it, and finding himself returned to his old hometown, all at once, has his heart racing and his thoughts swirling.
Emmy and Oliver were going to be best friends forever, or maybe even more, before their futures were ripped apart. In Emmy's soul, despite the space and time between them, their connection has never been severed. But is their story still written in the stars? Or are their hearts like the pieces of two different puzzles—impossible to fit together?
Readers who love Sarah Dessen will tear through these pages with hearts in throats as Emmy and Oliver struggle to face the messy, confusing consequences of Oliver's father's crime. Full of romance, coming-of-age emotion, and heartache, these two equally compelling characters create an unforgettable story.
REVIEW:
This is the type of story that could certainly have beneficed of a dual point of view. Oliver is a main protagonist and at times it felt like everything revolved around him, so I'm really perplexed. Why did the author not decide to let him narrate from time to time, so we could scrutinize his indiscernible thoughts? He just feels so… elusive.
Emmy is a cute heroine. I say cute because she's not original, or unique, or that interesting. She's just nice and lovely and cute. It's enjoyable to have her as a narrator because she's easy to like, but I can't say she awed me. And, no, her being a great surfer does not make her unique. The author only describes a poor little scene in which she's surfing and her love for it is not detailed… I just still don't know why she loves hitting the waves so much.
For such a ''heavily'' themed book, it's pretty easy to read and fast-paced. It broaches many subjects and themes – forgiveness, homosexuality, family love, and trust – but many are superficial, unsubstantial enough. For example, I really, really like the fact that Robin Benway decided to add a gay character in the cast set. That's cool, pretty cool. But we only get snippets of Drew's life and, whenever he deals with problems, we are only introduced to them and then quickly and obligingly returned to Oliver and Emmy's. Because, as the title implies it, that's what this book is mainly about. Two people.
For a contemporary read, this surprised me. I don't remember reading a story in which a kidnapping such as this one occurs so that's a plus to Emmy & Oliver. I also think that the characters are endearing and worth meeting. And there's a beautiful writing style… So I'm recommending it. It's worth it.