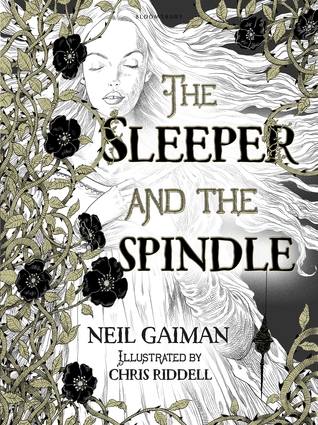 The Sleeper and the Spindle by Neil Gaiman
My rating: 3 of 5 stars
Received: Bought
Publication Date: October 23rd 2014
Publisher: Bloomsbury Publishing Plc
Point of View: 3rd Person
Recommended Age: 12+
Genres & Themes: Young Adult, Short Story, Fantasy, FairyTales
BLURB:
A thrillingly reimagined fairy tale from the truly magical combination of author Neil Gaiman and illustrator Chris Riddell – weaving together a sort-of Snow White and an almost Sleeping Beauty with a thread of dark magic, which will hold readers spellbound from start to finish.
On the eve of her wedding, a young queen sets out to rescue a princess from an enchantment. She casts aside her fine wedding clothes, takes her chain mail and her sword and follows her brave dwarf retainers into the tunnels under the mountain towards the sleeping kingdom. This queen will decide her own future – and the princess who needs rescuing is not quite what she seems. Twisting together the familiar and the new, this perfectly delicious, captivating and darkly funny tale shows its creators at the peak of their talents.
Lavishly produced, packed with glorious Chris Riddell illustrations enhanced with metallic ink, this is a spectacular and magical gift.
REVIEW:
The Sleeper and the Spindle could have been such an enchanting, lovely lesbian fairytale retelling. But no. Instead, it's romance-free and pretty deceiving. The illustrations are rather ubiquitous and of good quality… but not that necessary. At least, it isn't necessary to have that many of them. I just want to clarify something: this is not a graphic novel.
This being a short story, and the author not having depicted everything or everyone in extreme detail, we never get to know the characters all that well. Actually, they all feel insubstantial. The story is original, that's for sure, and I liked the unpredictable twist, even though I was expecting something else to come out of it.
For fans of Neil Gaiman's writing style and his Snow, Glass, Apples short story.