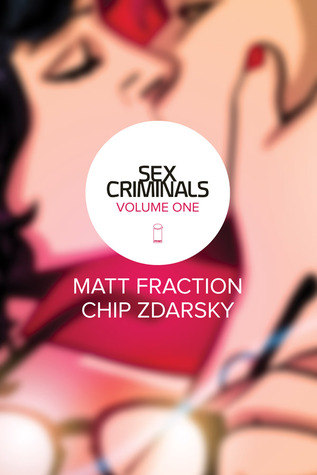 Sex Criminals, Vol. 1: One Weird Trick by Matt Fraction
My rating: 4 of 5 stars
Received: Bought
Publication Date: April 29th 2014
Publisher: Image Comics
Point of View: /
Recommended Age: 16+
Genres & Themes: Adult, Graphic Novels, Superpowers, Crime
BLURB:
Suzie's just a regular gal with an irregular gift: when she has sex, she stops time. One day she meets Jon and it turns out he has the same ability. And sooner or later they get around to using their gifts to do what we'd ALL do: rob a couple banks. A bawdy and brazen sex comedy for comics begins here!
By Matt Fraction (Satellite Sam, Hawkeye) and Chip Zdarsky (Prison Funnies, Monster Cops).
Named one of Time Magazine's top 10 graphic novels for 2013.
Collects SEX CRIMINALS #1-5
REVIEW:
I just feel like laughing right now. Although, not because what I just read was completely ridiculous. In the contrary, I'm surprised I didn't find it ridiculous at all. Sure, it's a bit strange, but fun, fun, fun. Plus, even though it may contain humour and some crazy passages, it is pretty serious in a way. It wasn't written to be read with the attention you watch a parody.
It's easy to like the main character. We see her as a kid, teen and then slowly becoming a woman. She changes of personality pretty suddenly in her adolescence, however, and that isn't much explained. I just figured her ability made her gain lots of self-confidence… but still. Jon, the man of her life – and whom shares her ''gift'' – is pretty boring. He takes so much space in the story.
He's always there. Everywhere, from the moment he meets Suzie. What's boring about him, you ask? He doesn't have any goal in life (says he wants to become an actor yet does nothing about it), he's not my type appearance-wise, his name is boring (I'm sorry to all Jons in the world, but this is a name I'm so tired of seeing in books and movies)… but at least he's good to Suzie and Suzie likes him so…
Which reminds me: insta-love. Well, it all feels more like an infatuation, honestly speaking. It all happens so fast and I just don't want to believe that, because they have one thing in common, they're meant to end up together. I almost wish for there to be a love-triangle happening in the second volume. Jon is just not exciting. Sigh.
Great plot. It does drag, eventually at 3/4, but not much. It's original, filled with humour, emotions and sex (duh)… enjoyable. And the visuals are G-O-R-G-E-O-U-S. Gorgeous. Gorgeous. I'm going to give it a four-star rating because everything is just so beautifully depicted and I loved the sex police twist.
This is probably my most negative four-star review ever. I'm sorry, guys, I don't know what happened. I liked this a lot. Except for Jon. Get.out.