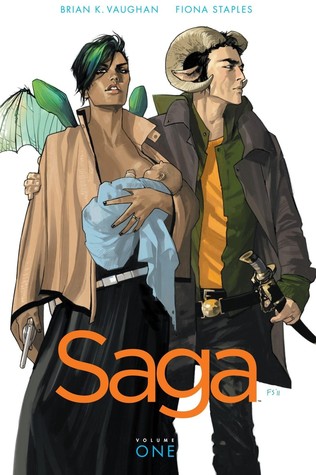 Saga, Volume 1 by Brian K. Vaughan
My rating: 5 of 5 stars
Received: Bought
Publication Date: October 23rd 2012
Publisher: Image Comics
Point of View: /
Recommended Age: 16+
Genres & Themes: Adult, Comic, Science Fiction, Fantasy, Action, War
BLURB:
From New York Times bestselling writer Brian K. Vaughan (Y: The Last Man, Ex Machina) and critically acclaimed artist Fiona Staples (Mystery Society, North 40), Saga is the sweeping tale of one young family fighting to find their place in the universe. When two soldiers from opposite sides of a never-ending galactic war fall in love, they risk everything to bring a fragile new life into a dangerous old world. Fantasy and science fiction are wed like never before in this sexy, subversive drama for adults.
Collects Saga issues #1-6.
REVIEW:
Woah. I mean, woah. There are so many things to love about this comic. The plot, the atmosphere, the characters, the action, the magic… those things… oh my. What I've seen so far impressed me, grandly, and if it weren't because I highly wanted to review this book right away, I would be right this moment halfway through the second volume. Goddamn cliffhanger. Loved it.
Now, this comic is composed of so many elements that I never dreamed I would one day come to mightily admire, such as monsters, weird chimeras/creatures, a futuristic or alternative setting and world and killings everywhere and all the time. It just works. The story follows not only the main characters with their baby but others – such as their pursuers – as well. There's not a single uninteresting moment. It's fast-paced, it's imaginative, creative, amazingly drawn and there's one hell of a love story inside it!
But it's not only that. It's not only a love story or one about war and its consequences. I see something big coming, something important. I can feel it, and you'll feel it too. I'm positive the soldiers, with the help of some allies, will save the world. Oops, huge spoiler if I'm right 😉