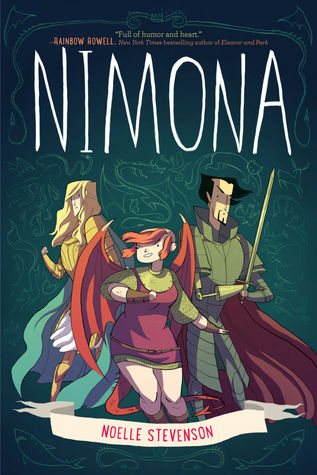 Nimona by Noelle Stevenson
My rating: 4 of 5 stars
Received: Bought
Publication Date: May 12th 2015
Publisher: Harper Collins
Point of View: Masculine
Recommended Age: 12+
Genres & Themes: Young Adult, Fantasy. Graphic Novels, Adventure, LGBT
BLURB:
The graphic novel debut from rising star Noelle Stevenson, based on her beloved and critically acclaimed web comic, which Slate awarded its Cartoonist Studio Prize, calling it "a deadpan epic."
Nemeses! Dragons! Science! Symbolism! All these and more await in this brilliantly subversive, sharply irreverent epic from Noelle Stevenson. Featuring an exclusive epilogue not seen in the web comic, along with bonus conceptual sketches and revised pages throughout, this gorgeous full-color graphic novel is perfect for the legions of fans of the web comic and is sure to win Noelle many new ones.
Nimona is an impulsive young shapeshifter with a knack for villainy. Lord Ballister Blackheart is a villain with a vendetta. As sidekick and supervillain, Nimona and Lord Blackheart are about to wreak some serious havoc. Their mission: prove to the kingdom that Sir Ambrosius Goldenloin and his buddies at the Institution of Law Enforcement and Heroics aren't the heroes everyone thinks they are.
But as small acts of mischief escalate into a vicious battle, Lord Blackheart realizes that Nimona's powers are as murky and mysterious as her past. And her unpredictable wild side might be more dangerous than he is willing to admit.
REVIEW:

''I can't have a kid following me around all day.''
''I'm not a kid. I'M A SHARK.''

Pouahaha. What a story! What witty dialogs! Filled with humour, adventure, magic and friendship, it will certainly charm and entertain the hell out of you. This title used to be a DNF of mine, before I decided to give it a second shot. Glad I did! What made me stop reading it the first time around was the graphics, because this is a style that never appealed to me, but truth is, it just grows on you, as do the characters and every other element.
Nimona, huge bear hugs to you. Ballister, you've got my admiration. Goldenloin, I want your hair. Noelle Stevenson, I wish you'd write a sequel or an happy-ever-after epilogue. I want to see Ballister & Goldenloin kiss.
I loved it.