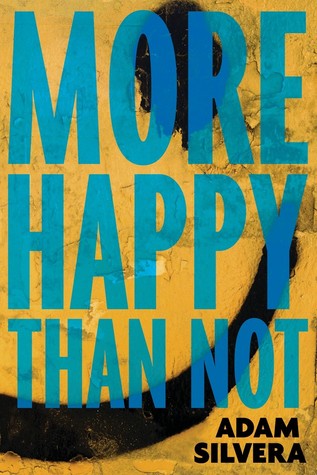 More Happy Than Not by Adam Silvera
My rating: 5 of 5 stars
Received: Bought
Publication Date: June 2nd 2015
Publisher: Soho Press
Point of View: 1st Person & Masculine
Recommended Age: 13+
Genres & Themes: Young Adult, LGBT, Contemporary, Death, Family, Love, Friendship, Happiness
BLURB:
In his twisty, gritty, profoundly moving debut—called "mandatory reading" by the New York Times—Adam Silvera brings to life a charged, dangerous near-future summer in the Bronx.
In the months after his father's suicide, it's been tough for 16-year-old Aaron Soto to find happiness again–but he's still gunning for it. With the support of his girlfriend Genevieve and his overworked mom, he's slowly remembering what that might feel like. But grief and the smile-shaped scar on his wrist prevent him from forgetting completely.
When Genevieve leaves for a couple of weeks, Aaron spends all his time hanging out with this new guy, Thomas. Aaron's crew notices, and they're not exactly thrilled. But Aaron can't deny the happiness Thomas brings or how Thomas makes him feel safe from himself, despite the tensions their friendship is stirring with his girlfriend and friends. Since Aaron can't stay away from Thomas or turn off his newfound feelings for him, he considers turning to the Leteo Institute's revolutionary memory-alteration procedure to straighten himself out, even if it means forgetting who he truly is.
Why does happiness have to be so hard?
REVIEW:
POWERFUL. POIGNANT. INDISPENSABLE BOOK.
Oh, damn, what a rollercoaster of emotions this was. Havoc in my heart. I wish I could say that it made me smile or laugh or dream, but that would be lying to you and myself. It is very unlikely that you will turn the last page and sigh, hand on your heart and stars in your eyes. You will very likely be clutching at your heart, in fear that it will break. In hindsight, I realize that I had no idea what I was getting into. When I heard people qualifying this book as ''sad'' and ''gut-wrenching'', I thought that they were straight out exaggerating.
They weren't.
But while I wish I could make a camp fire out of this book and watch it distort itself into nothingness, I'm also glad that I read it. Homophobia still exists. Suicides still happen. Hearts still break. I don't know anyone who would willingly dive into a book and hope for it to shatter them. I do, however, know that those themes are ones that undoubtedly hurt but are important, because they're sadly apart of this world and the more we read about them, the more we understand what they are, what they mean. And knowledge is everything, isn't that right?
I won't say that this book ia beautiful or wonderful, but I will admit that it is unforgettable. I can't imagine someone finishing it and just carrying on with their lives, letting oblivion steal every thought concerning MORE HAPPY THAN NOT. It's just not possible. The characters—Aaron—will always stay with me, and that's okay. It's okay because I want them to linger in my mind. It's okay because they deserve to.
Sometimes pain is so unmanageable that the idea of spending another day with it seems impossible. Other times pain acts as a compass to help you get through the messier tunnels of growing up. But the pain can help you find happiness if you can remember it.

________________________________________
I have to read this book. Here's why:
If you don't know the lovely Becky Albertalli, she's the author of Simon vs. the Homo Sapiens Agenda. ❤