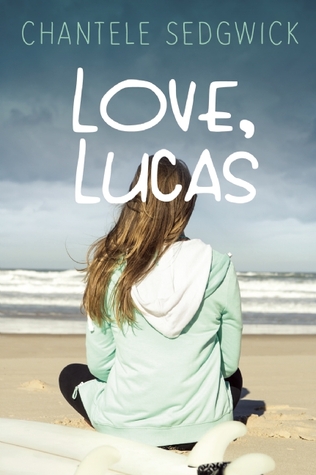 Love, Lucas by Chantele Sedgwick
My rating: 3 of 5 stars
Received: Publisher
Publication Date: May 5th 2015
Publisher: Sky Pony Press
Point of View: 1st Person & Feminine
Recommended Age: 12+
Genres & Themes: Young Adult, Contemporary, Death, Love, Family
BLURB:
A powerful story of loss, second chances, and first love, reminiscent of Sarah Dessen and John Green.
When Oakley Nelson loses her older brother, Lucas, to cancer, she thinks she'll never recover. Between her parents' arguing and the battle she's fighting with depression, she feels nothing inside but a hollow emptiness. When Mom suggests they spend a few months in California with Aunt Jo, Oakley isn't sure a change of scenery will alter anything, but she's willing to give it a try.
In California, Oakley discovers a sort of safety and freedom in Aunt Jo's beach house. Once they're settled, Mom hands her a notebook full of letters addressed to her—from Lucas. As Oakley reads one each day, she realizes how much he loved her, and each letter challenges her to be better and to continue to enjoy her life. He wants her to move on.
If only it were that easy.
But then a surfer named Carson comes into her life, and Oakley is blindsided. He makes her feel again. As she lets him in, she is surprised by how much she cares for him, and that's when things get complicated. How can she fall in love and be happy when Lucas never got the chance to do those very same things?
With her brother's dying words as guidance, Oakley knows she must learn to listen and trust again. But will she have to leave the past behind to find happiness in the future?
REVIEW:
Love, Lucas is a wonderful moving story. It deals with death, grief, first love and family issues. Set in California, Oakley now staying near the beach with her mom and aunt, you will almost feel as if you're there all along with the main character and seeing the waves and surfers and the beach altogether, whenever it's mentioned.
Early in Spring, Oakley and her mom take a flight to California for a reason: to get away. From life. From their inner gloomy thoughts. Oakley's mom needs time to process everything that happened lately and so does her daughter. The latter saw her brother die of cancer and she doesn't know how to manage this thing called life after he left them. Her. But what can a summer in California possibly offer her?
A lot, actually: new friends, a new love, new life goals. It is, for her, an internal journey. She thinks her summer will resume as her mopping around, brooding over her brother's death. But she's dead wrong. She meets Carson and then everything starts to make sense again in her life.
It isn't the most imaginative contemporary story there is out there, but there's beauty in it. Beauty in the writing, the atmosphere and the characters. And the letters… Oakley's brother wrote some entries in a notebook before he died. I think of them as letters because I like to consider every entry as a unique piece of writing. Those ''letters'' are important: they help Oakley remember how to live. Problem is, when she meets Carson and gets to know him quite well, I feel like the importance of the letters drastically falls. And then, near the end, they regain their full importance.
I can say I very must appreciated reading about the characters. Sadly, though, there aren't enough of them. There are only a small amount of secondary ones and they don't get more than a couple of scenes. If they were more present, if we got to know them as well as we did Carson (and even he, we don't know more than the basic stuff about), then the plot would have been more interesting. It's not bad, but it really does mainly focus on Oakley. Good thing I liker her, because otherwise this would have annoyed me.
A solution I would have considered to make the secondary character more present is to give Carson some POVs. Not half-half, but a couple so we can get into his head. He carries some heavy baggage, too, so I think his thoughts would have had some value.
The ending is lovely. A bit rushed and most of the events in the conclusion left unexplained, underdeveloped, when the author clearly could have took some pages and give information on Carson's father's thoughts and Okaley's father's point of view on what happens in the end. I mean, really, it usually isn't that simple. But I stand by my claim: a lovely ending to a lovely story.
A recommended summer read.