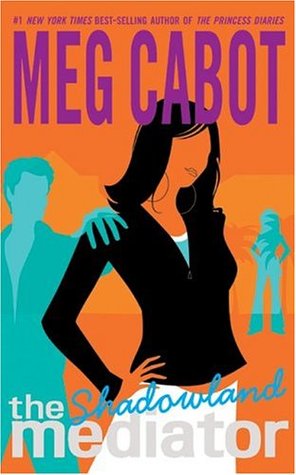 Shadowland by Meg Cabot
My rating: 4.5 of 5 stars
Received: Bought
Publication Date: November 1st 2000
Publisher: Avon
Point of View: 1st Person & Feminine
Recommended Age: 12+
Genres & Themes: Young Adult, Paranormal, Ghosts, High School
BLURB:
There's a hot guy in Susannah Simon's bedroom. Too bad he's a ghost.
Suze is a mediator – a liaison between the living and the dead. In other words, she sees dead people. And they won't leave her alone until she helps them resolve their unfinished business with the living. But Jesse, the hot ghost haunting her bedroom, doesn't seem to need her help. Which is a relief, because Suze has just moved to sunny California and plans to start fresh, with trips to the mall instead of the cemetery, and surfing instead of spectral visitations.
But the very first day at her new school, Suze realizes it's not that easy. There's a ghost with revenge on her mind… and Suze happens to be in the way.
REVIEW:
4.5 stars. Now I remember why Meg Cabot used to be my most favourite author when I was younger. I adored her. This doesn't mean that I liked every single book she wrote, but I loved the fact that I could just chose the genre I wanted to read with her, know what I'm saying? Contemporary, urban fantasy, paranormal, supernatural, historical… She's a versatile writer and those types of writers always impress me.
I know why I never read this series. I also know that I acted foolishly by not giving it a shot. I remember borrowing a couple of The Princess Diaries books from my library and seeing this series next to it. I just never paid much attention to it, because my eleven-year-old self thought it looked… weird. That's right. (I also didn't like the cover; its colors: lurid, lurid, lurid!) Anyway, it just didn't look serious enough for me, and when the subject is ghost-related, I like it mature and complex. I know… what was I thinking judging so easily? I guess sometimes it's actually good to be wrong about books.
This book… This book… It's near PERFECT. And it's so much fun, without there being excessive humour and entertaining but pointless scenes to the plot. The main character is slightly snarky, highly witty, smart and good at what she does. She's a mediator, and she does her job well. She has experience in talking to ghosts, and it shows. Doesn't mean it always works out well for her, but she's always ready to find solutions to problems and protect the people she loves. I didn't think she and I would get along that much, because sometimes she can be quite rude, and I don't especially like rude people, but her remarks don't just come out of nowhere, for no reason; she knows how to defend herself.
There's a bunch of secondary characters to meet and love. Really, there's not one I managed to hate, even the vile ones. There are stereotypes (even the ghost's reason for dying wasn't new to my ear – déja vu, déjà vu, déjà vu) but they won't bother you because 1) they're not highlighted and 2) you'll be so immersed in Suze's (main character) thoughts that, if she's not thinking about that, you won't either. I think maybe I missed Meg Cabot's stories too much, because I honestly can't find anything negative that bothered me to say about this. Either that or it's just that exceptionally entrancing. I guess the romance isn't that fabulous… but, really, Suze isn't preoccupied by boys! She has ghosts to deal with, for God's sake! Well… *wink*
Also, it's fast-paced and I might even have read it in one sitting if I were the type to do that. Realistic and believable, too, otherwise I swear I wouldn't have liked this. Ghosts are an interesting and important subject to me, so if it's not well dealt with or if they're ridiculously portrayed, I get cranky. Why this book doesn't contain your usual teen-who-sees-ghosts story is because Meg Cabot takes it to a whole new level. But I'll let you discover what the hell I'm talking about.
I can't even think of one reason why you shouldn't pick this book up. Extremely recommeded to fans of Linda Joy Singleton… and everyone else!