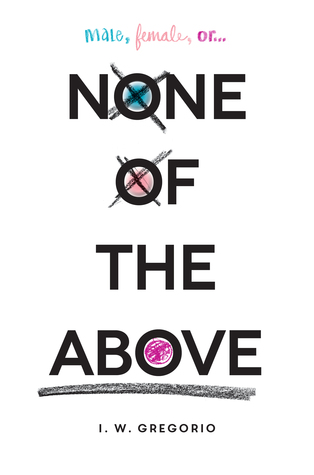 None of the Above by I.W. Gregorio
My rating: 3.5 of 5 stars
Received: Borrowed
Publication Date: April 7th 2015
Publisher: Balzer + Bray
Point of View: 1st Person & Feminine
Recommended Age: 13+
Genres & Themes: Young Adult, Contemporary, LGBT, Psychological, High School, Bullying
BLURB:
A groundbreaking story about a teenage girl who discovers she was born intersex… and what happens when her secret is revealed to the entire school. Incredibly compelling and sensitively told, None of the Above is a thought-provoking novel that explores what it means to be a boy, a girl, or something in between.
What if everything you knew about yourself changed in an instant?
When Kristin Lattimer is voted homecoming queen, it seems like another piece of her ideal life has fallen into place. She's a champion hurdler with a full scholarship to college and she's madly in love with her boyfriend. In fact, she's decided that she's ready to take things to the next level with him.
But Kristin's first time isn't the perfect moment she's planned—something is very wrong. A visit to the doctor reveals the truth: Kristin is intersex, which means that though she outwardly looks like a girl, she has male chromosomes, not to mention boy "parts."
Dealing with her body is difficult enough, but when her diagnosis is leaked to the whole school, Kristin's entire identity is thrown into question. As her world unravels, can she come to terms with her new self?
REVIEW:

''You fall for the person, not their chromosomes.''

I'm genuinely glad I read this book. It wasn't the best YA contemporary I've ever had the chance to read, but it was informative, authentic and the story went straight to my heart. I didn't know that the word ''intersex'' existed before seeing this book on Goodreads, let alone what it meant. None of the Above clarified me on what it means to be intersex. It also portrayed a realistic circumstance of a girl learning that she has a disorder of sex development.
Here are some more adjectives that describe the story: sad, raw, depressive, intense, eye-opening, hopeful. It was sad because, when the whole school learned that Kristin was a hermaphrodite, they bullied her about it. They were cruel to her. Kristin's emotions were so raw and she even fell into depression… She lost her best friends, her boyfriend, her place as a hurdler… so much. The chapters were extra short and their ending on a mini-cliffy gave to the story an intensity that grabbed my interest and didn't let go.
But even if there was sadness and darkness, there was light at the end of the tunnel. Kristin didn't just decide to conceal herself from humanity in a dark hole. No! She tried to find help and I applauded her for it! She contacted people who knew about – were – intersex, too, and who could enlighten her a little more on the subject matter and answer her thousand of questions.
How eye-opening it was for me to see her struggle… to see what a person that is intersex could live… to see that there is more to this world than we think there is. And, finally, hopefulness. Après la pluie, le beau temps, n'est-ce pas? I hoped everything would fall into place for Kristin. Some people complained that the ending was a little ''too good to be true'' or contrived, but that was not my opinion of it; I was happy with how things turned out for Krissy. She deserved nothing less.
The author, at the end of this novel, recommended to us, the readers, some others titles, in case we're interested in informing ourselves more about intersex via fiction or non fiction books. And I am. Interested, I mean. Middlesex is one of the books she suggested… so, if you've read it, feel free to share your thoughts on it with me.