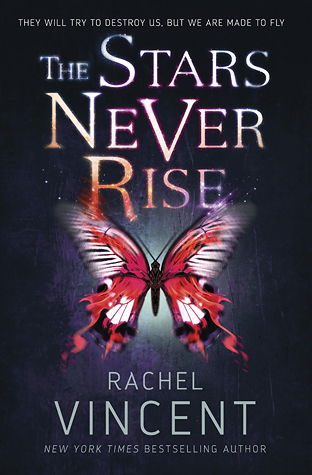 The Stars Never Rise by Rachel Vincent
My rating: 4 of 5 stars
Received: Bought
Publication Date: June 9th 2015
Publisher: Delacorte Press
Point of View: 1st Person & Female
Recommended Age: 14+
Genres & Themes: Young Adult, Urban Fantasy, Dystopia, Demons
BLURB:
Sixteen-year-old Nina Kane should be worrying about her immortal soul, but she's too busy trying to actually survive. Her town's population has been decimated by soul-consuming demons, and souls are in short supply. Watching over her younger sister, Mellie, and scraping together food and money are all that matters. The two of them are a family. They gave up on their deadbeat mom a long time ago.
When Nina discovers that Mellie is keeping a secret that threatens their very existence, she'll do anything to protect her. Because in New Temperance, sins are prosecuted as crimes by the brutal Church and its army of black-robed exorcists. And Mellie's sin has put her in serious trouble.
To keep them both alive, Nina will need to trust Finn, a fugitive with deep green eyes who has already saved her life once and who might just be an exorcist. But what kind of exorcist wears a hoodie?
Wanted by the Church and hunted by dark forces, Nina knows she can't survive on her own. She needs Finn and his group of rogue friends just as much as they need her.
REVIEW:
Oh, this was good. Great. Astonishingly entertaining. I first had my reservations regarding the suitability of mixing dystopia and urban fantasy as genres. Would they create a ''believable'' and ''convincing'' enough story, albeit full of demons, exorcists and religious fanatics? Would it make sense? Those two questions made me extremely curious. And I'm a curious reader. So let me tell you something: it works better than I could ever imagine.
The story was extremely fast-paced, brimming with action and intensity. It was nasty as anything, with fierce and blood drunk demons – degenerates – roaming the night and only a few exorcist there to stop them. This was my first read by Rachel Vincent but, if every book she's ever written is like this one, no one will stop me from raiding them… I mean, reading them.
Nina – love her name – was a great heroine. Brave, bold and fearless, she showed determination in saving her sister from the demons' clutches and in shouting out the truth about the real enemy in the society. But she had help; she wasn't alone. About her company… the author probably aimed for Finn to be some kind of special asset to the story and everything… but his ability actually made me feel less attached to him than I normally am to a character.
And the romance was neither swoon-worthy nor exciting. Sorry. Insta-love.
Still, The Stars Never Rise and I had a wonderful time together.
I hope to read more books such as this one in the future.