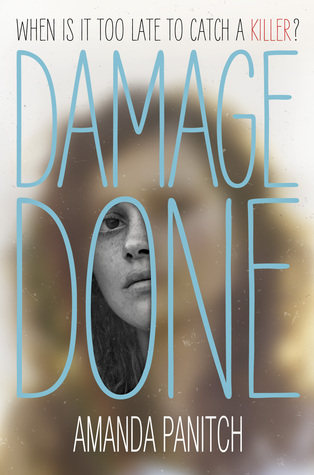 Damage Done by Amanda Panitch
My rating: 4 of 5 stars
Received: Publisher
Publication Date: July 21st 2015
Publisher: Random House Books for Young Readers
Point of View: 1st Person & Female
Recommended Age: 13+
Genres & Themes: Young Adult, Thriller, Contemporary, Mystery, Love
BLURB:
22 minutes separate Julia Vann's before and after.
Before: Julia had a twin brother, a boyfriend, and a best friend.
After: She has a new identity, a new hometown, and memories of those twenty-two minutes that refuse to come into focus. At least, that's what she tells the police.
Now that she's Lucy Black, she's able to begin again. She's even getting used to the empty bedroom where her brother should be. And her fresh start has attracted the attention of one of the hottest guys in school, a boy who will do anything to protect her. But when someone much more dangerous also takes notice, Lucy's forced to confront the dark secrets she thought were safely left behind.
One thing is clear: The damage done can never be erased. It's only just beginning. . . .
REVIEW:
Damage Done was one hell of a page-turner. Thanks to its many disturbing yet interesting and suspenseful elements, a rather unreliable narrator and plenty of impactful scenes, this novel knew how to keep my interest from dwindling.
Julia Vann isn't your typical YA main character. She and her twin brother are abnormally close. As in, they can't stand being separated from each other for even a short period of time. They do everything together: sleep in the same room, sign up to the same clubs, take comfort from one another, everything.
But Julia's brother is a psychopath. He kills. He destroys. He doesn't feel a thing, except for his sister's love for him.
This is my first time reading about such a situation: a character having to change name and city because they don't want people to associate them to their murderer of a sibling. Julia became Lucy. Lucy's new life suits her just fine,
until she discovers that her brother woke up from coma and is missing.
Honestly, I loved every second of the well-thought-out and twisty plot… except for the ending. But this is a minor complaint. There were some characters that disappointed me; or rather their epilogue disappointed me. And the ending was pretty open… and the last sentence a big fat lie. As if I believed it. Pff!
Lucy was intoxicating, her personality so complex that the book would have deserved a hundred more pages for us to better unravel her. I never trusted her. She was too much of a victim for me to think she never had anything to do with what happened… but I liked that. I liked simultaneously doubting her word and digesting everything she ever uttered or thought.
People died in this story. Others got hurt. Some lost their way. It wasn't dark, but no way has it been written to delight you, either.
A one of a kind mystery/thriller. I just can't wait for everyone to have the opportunity to read this.