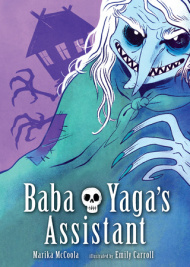 Baba Yaga's Assistant by Marika McCoola
My rating: 3 of 5 stars
Received: NetGalley
Publication Date: August 4th 2015
Publisher: Candlewick Press
Point of View: Female
Recommended Age: 10+
Genres & Themes: Middle Grade, Graphic Novel, Fantasy, Magic
BLURB:
Russian folklore icon Baba Yaga mentors a lonely teen in a wry graphic novel that balances gleefully between the modern and the timeless.
Most children think twice before braving a haunted wood filled with terrifying beasties to match wits with a witch, but not Masha. Her beloved grandma taught her many things: that stories are useful, that magic is fickle, that nothing is too difficult or too dirty to clean. The fearsome witch of folklore needs an assistant, and Masha needs an adventure. She may be clever enough to enter Baba Yaga's house-on-chicken-legs, but within its walls, deceit is the rule. To earn her place, Masha must pass a series of tests, outfox a territorial bear, and make dinner for her host. No easy task, with children on the menu! Spooky and poignant, Marika McCoola's stunning debut—with richly layered art by acclaimed graphic artist Emily Carroll—is a storytelling feat and a visual feast.
REVIEW:
Another enjoyable graphic novel aimed at a young audience. I liked how magic was used in the story and the little tricks Masha thought of to get out of trouble or complete the challenges she was given. Astute girl.
I wasn't impressed by the graphics though… which is unfortunate because I know the artist, Emily Carroll, having read Through the Woods by her, so I'm certain that she could have done a better job. Some pages looked so sketchy.
Also, It would have been a valuable element to the story if we knew more about Baba Yaga, meaning her past and the reason to why she did everything she did. But that's because I don't know this character much and wanted to be enlightened during my reading.