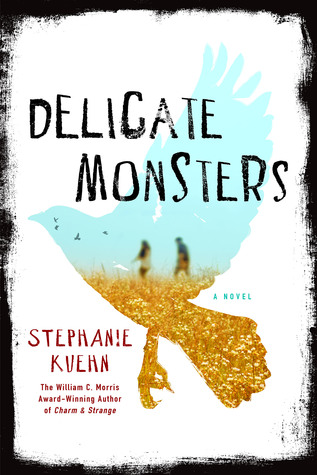 Delicate Monsters by Stephanie Kuehn
My rating: 3.5 of 5 stars
Received: Publisher
Publication Date: June 9th 2015
Publisher: St. Martin's Griffin
Point of View: 3rd Person & Alternative
Recommended Age: 13+
Genres & Themes: Young Adult, Contemporary, Thriller
BLURB:
From the Morris-Award winning author of Charm & Strange, comes a twisted and haunting tale about three teens uncovering dark secrets and even darker truths about themselves.
When nearly killing a classmate gets seventeen-year-old Sadie Su kicked out of her third boarding school in four years, she returns to her family's California vineyard estate. Here, she's meant to stay out of trouble. Here, she's meant to do a lot of things. But it's hard. She's bored. And when Sadie's bored, the only thing she likes is trouble.
Emerson Tate's a poor boy living in a rich town, with his widowed mother and strange, haunted little brother. All he wants his senior year is to play basketball and make something happen with the girl of his dreams. That's why Emerson's not happy Sadie's back. An old childhood friend, she knows his worst secrets. The things he longs to forget. The things she won't ever let him.
Haunted is a good word for fifteen-year-old Miles Tate. Miles can see the future, after all. And he knows his vision of tragic violence at his school will come true, because his visions always do. That's what he tells the new girl in town. The one who listens to him. The one who recognizes the darkness in his past.
But can Miles stop the violence? Or has the future already been written? Maybe tragedy is his destiny. Maybe it's all of theirs.
REVIEW:
Well, I honestly did not expect this result. Which can certainly be viewed as a good thing. But, really, did someone tear off the last few pages of my copy? How could it end like that? I'm still in a state of bewilderment.
Nevertheless, Delicate Monsters was a thriller that kept me on the edge of my seat! The chapters were short, there were many of them and none missed to end in a note that will make you want to read the next chapter right away. I swear, there were so many things I needed to do yesterday, but I just NEEDED to finish this book more…
A year ago, I attempted the reading of Charm & Strange by this very same author, but it didn't appeal to me. However, I believe it to be a case of ''it's not you, it's me,'' since, to be honest, I expected too much. Actually, I thought there would be some gay romance included and my not being satisfied in that department, I left the book 1/10 read.
But I think it's time to give it another chance. Delicate Monsters convinced me of that. When I started this story, I didn't surmise it would be this intense. It wasn't gory or weird to an extreme level. It was mysterious and atmospheric and the characters felt so real.
Sadie, the main character, was an anti-heroine. If you like those, then your plate will be served! Then there was Miles who was waifish and suffered, mentally, of inner voices, demons… it wasn't not exactly one hundred percent clear. And I didn't like how the author gave it a new meaning by using supernatural abilities. I say ''new'' but I mean new to me, since it felt like they (supernatural abilities) appeared all of the sudden.
Emerson was… peculiar? Illegal? He certainly did commit unethical acts. But honestly, he, himself, felt and was seen by Sadie as a FAR worst person than I thought him to truly be. But that's a personal opinion. You may despise him.
This was a romance-free novel. Sure, love was one of the themes, among others, but do we actually get to witness a blossoming love relationship between two characters? And the answer is no. It mattered not to me, for I was focused on other matters; more important ones.
I haven't seen this book around much, but I think that it should get more attention than it does right now.