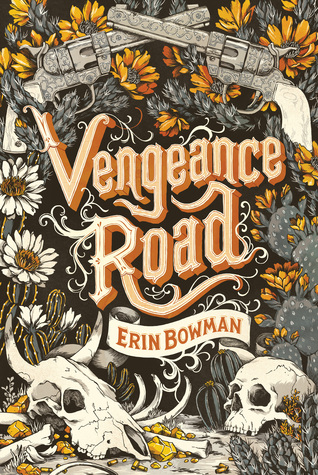 Vengeance Road by Erin Bowman
My rating: 2.5 of 5 stars
Received: Publisher
Publication Date: September 1st 2015
Publisher: HMH Books for Young Readers
Point of View: 1st Person & Female
Recommended Age: 13+
Genres & Themes: Young Adult, Historical Fiction, Western, Adventure, Revenge
BLURB:
When Kate Thompson's father is killed by the notorious Rose Riders for a mysterious journal that reveals the secret location of a gold mine, the eighteen-year-old disguises herself as a boy and takes to the gritty plains looking for answers and justice. What she finds are devious strangers, dust storms, and a pair of brothers who refuse to quit riding in her shadow. But as Kate gets closer to the secrets about her family, she gets closer to the truth about herself and must decide if there's room for love in a heart so full of hate.      In the spirit of True Grit, the cutthroat days of the Wild West come to life for a new generation.   
REVIEW:
Kate's father was murdered by the Rose Riders, a notorious Western gang. Ergo, she decides to run after the said gang and avenge her father; she has a vendetta. But finding which doesn't want to be found can be tedious. Luckily, Kate doesn't have to follow the road of vengeance alone; two young men are continuously trailing her, not far behind.
I had the feeling that this would be a perfect medley of genres, blending, inter alia, adventure, historical fiction and a subtle drop of romance to spice everything up. While the author did exploit those genres and inserted some themes along the way, this book was repetitious as hell. The setting, while it technically did vary, didn't feel to me like it ever did. The pacing was stable but one problem: it was slow. Slow plus monotonous do not make a great combination.
The idea, sincerely, was promising. Revenge stories are ordinarily narrated by fierce, sometimes feral or manipulative, but always ambitious heroes/heroines. That's what I like most about them. That's what I liked most about Kate. There was so little she was afraid of… and I don't even recall her being frightened by anything. She was human, nothing like a robot or an animated object bleak of emotions, but impressively courageous.
Since at that time and place people used accents, the characters had them, too. Nothing annoying or overly present, just the right amount of distorted words to add authenticity and fidelity to the historical setting.
I guess if you enjoy Western movies and stories in general, you might not have the same struggle with this book as I did. I am not one to seek this type of story, but I wanted to know what it felt like to read one. And I did, but I also realized that cowboys aren't as exciting to me as they are to other people.
Still, it intrigued me and there were some good twists; Erin Bowman clearly wasn't reticent to shake things up!