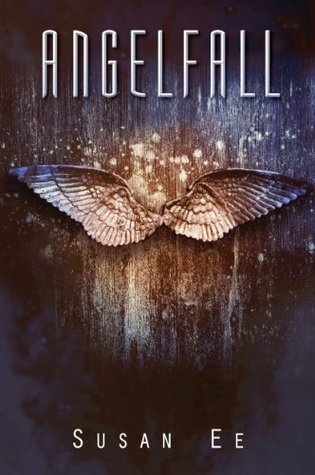 Angelfall by Susan Ee
My rating: 5 of 5 stars
Received: Bought
Publication Date: August 28th 2012
Publisher: Skyscape
Point of View: 1st Person & Female
Recommended Age: 13+
Genres & Themes: Young Adult, Fantasy, Post-Apocalyptic, Angels, War-Setting, Dark, Monsters
BLURB:
It's been six weeks since the angels of the apocalypse destroyed the world as we know it. Only pockets of humanity remain.
Savage street gangs rule the day while fear and superstition rule the night.
When angels fly away with a helpless girl, her seventeen-year-old sister Penryn will do anything to get her back…
REVIEW:
HELL TO THE YES.
When I was a little younger, I used to be obsessed with angels. I used to wish to become one, the day of my death, (how morbid) and often absurdly made the said wish when blowing candles, on my birthdays.
Therefore, everyone in my vicinity would see carry an angel story around. I was smitten with them. This peculiar obsession lasted for years and so my pile of angel books read became real impressive. Kissed by an Angel, Hush, Hush, Unearthly, Fallen, Daughter of Smoke & Bone, Once Dead, Twice Shy are some of the books/series that I would dive into.
But hear me out: of all the stories featuring winged humans that I have had the pleasure to read, none was so… Obscure. Nasty. Raw. Gut-wrenching. Relentlessly dark.
And more.
I can't say that it renewed my love toward angels… because obviously this book wouldn't be what it is if those creatures were the ''good guys,'' but I sure as hell feel like reading further. I have no clue on how this will end. The world is already dead, what could happen more? I'm curious, so curious. I feel like snooping around Goodreads reviews and catch bits and hints on what will happen next with Penryn and Raffe, but will try to control myself.
As for Penryn and Raffe… Raffe is not my type. I don't sense a connection to him, even if I do enjoy his quick-witted lines full of smugness. Thing is, I've long now accepted the fact that not every book boyfriend can become our book boyfriend and Penryn and himself make such a perfect team, that I'm not going to try and steal him away from her. How's that for unselfishness? *wink* *wink*
If you haven't implicitly gotten the message already, READ THIS BOOK.