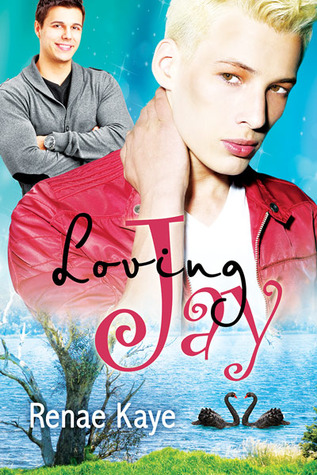 Loving Jay by Renae Kaye
My rating: 4 of 5 stars
Received: Bought
Publication Date: April 18th 2014
Publisher: Dreamspinner Press
Point of View: 1st Person & Masculine
Recommended Age: 14+
Genres & Themes: New Adult, Contemporary, M/M romance, Humor, Disability
BLURB:
One thing Liam Turner knows for sure is that he's not gay—after all, his father makes it very clear he'll allow no son of his to be gay. And Liam believes it, until a chance meeting with James "Jay" Bell turns Liam's world upside-down. Jay is vivacious and unabashedly gay—from the tips of his bleached hair to the ends of his polished nails. With a flair for fashion, overreaction, and an inability to cork his verbal diarrhea, Liam believes drama queen Jay must have a screw loose.
An accident as a teenager left Liam with a limp and a fear of driving. He can't play football anymore either, and that makes him feel like less of a man. But that's no reason to question his sexuality… unless the accident broke something else inside him. When being with Jay causes Liam's protective instincts to emerge, Liam starts to believe all he knew in life had been a convenient excuse to stay hidden. From intolerance to confrontations, Liam must learn to overcome his fears—and his father—before he can accept his sexuality and truly love Jay.
REVIEW:
OH WOW! This is one of the most smile-worthy books I've read this year! It was obsessively cute, wonderfully moving, humorous, and completely fluffy!

I can't stop thinking about how enjoyable and what a pleasant reading experience it was!
Loving Jay, literally, was such an easy thing to do, for Liam and me, the reader. He is heart-warmingly charming and sweet to an unimaginable point. Every time he was around – which is almost always – there was this automatic grin that appeared on my face. Sometimes, you just have a connection with some characters and, even though they are not real people, they may feel like it.
What was most sigh-worthy about this book is definitely how Liam struggled to keep his attraction for Jay at bay – I mean it: tried to – in order to fully discover who he is and what he really wants. But, well, Jay, being the sweet talker that he is, could make anyone – in my opinion – fall for his vivid and sparkly personality.
Not only are the main characters and secondary characters developed ones, but we also get a writing that compelled me into keeping on reading more and more, in order to appease my addictiveness to the story. And that until I couldn't fight sleep anymore.
Sometimes there are M/M romances that can feel too cheesy or recycled but this is completely different! The cute moments wouldn't be called cheesy since it feels so real and Jay makes it always seem – even only by his comportment or look – like Liam is his one true love and that nothing could ever break them apart. That he was entirely committed to their new relationship and…I believed him with all my heart.
When you will start this read, you may find that Jay and Liam are two almost one hundred percent different people – in their personality – and I can agree but, that was what made their couple more special and interesting to read about. And I sincerely do think that Jay is the perfect match for Liam and the other way around too. Plus, les opposés s'attirent.
There is one think that did bother me a little though and that is why I cannot give it five full stars, even if I wanted to. The redundancy. It isn't present throughout the story, but you can unfortunately feel it after some time. It's mostly because of the setting, since it excessively consists of the train station and train itself, on which they first see each other.
This is an M/M romance you will not want to miss out! It's the kind of read to pick up when feeling like reading something short, entertaining and adorable. It will not disappoint and I hope you will fall in love with dear little Jay, whom I couldn't get enough of.
Note: book read & reviewed on November 2014.