LGBT is one of my ultimate favorites genres out there, thus, I decided to share with you some of my most memorable reads. Maybe, just maybe, you'll find one or two, from this list, that you'd be interested in reading.
(Click on cover for review and/or Goodreads.)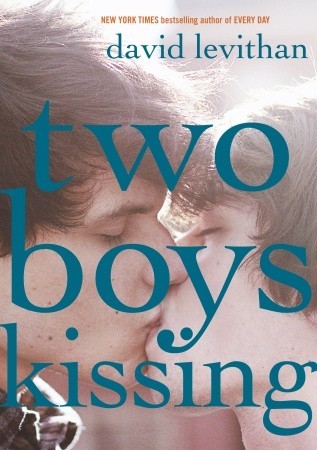 New York Times  bestselling author David Levithan tells the based-on-true-events story of Harry and Craig, two 17-year-olds who are about to take part in a 32-hour marathon of kissing to set a new Guinness World Record—all of which is narrated by a Greek Chorus of the generation of gay men lost to AIDS.
While the two increasingly dehydrated and sleep-deprived boys are locking lips, they become a focal point in the lives of other teen boys dealing with languishing long-term relationships, coming out, navigating gender identity, and falling deeper into the digital rabbit hole of gay hookup sites—all while the kissing former couple tries to figure out their own feelings for each other.
Sloane loves a good mystery. He grew up as the son of two psychiatrists, so he finds most people tediously easy to figure out. He finds his way to Pennsylvania State University, longing for a rural experience, and ends up being lured into joining a frat by Micah Springfield, the hippest guy on campus.
Nothing in Sloane's classes is as intriguing as Hank Springfield, Micah's brother and fellow frat house member. Hank looks like a tough guy—big muscles, tatts, and a beard—but his eyes are soft and sweet. He acts dumb, but he's a philosophy major. He's presumably straight, but then why does Sloane feel such crazy chemistry whenever Hank is around? And why does Hank hate Sloane so much?
When Sloane ends up stuck on campus over Christmas, Micah invites him to spend the holidays at their family farm in Amish country. It's a chance to experience a true Americana Christmas–and further investigate the mystery that is Hank Springfield. Can Sloane unlock the secrets of this family and unwrap the heart hidden inside the beefcake?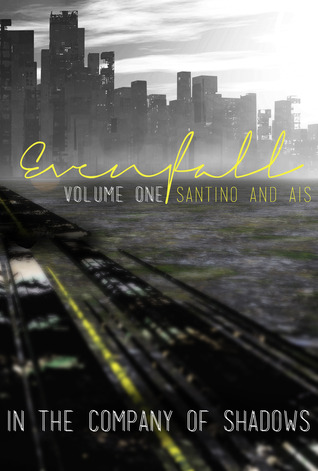 Available at: www.inthecompanyofshadows.com
In a post-apocalyptic future, the Agency works behind the scenes to take down opposition groups that threaten the current government. Their goals justify all means, even when it comes to their own agents.
Sin is the Agency's most efficient killer. His fighting skills and talent at assassination have led to him being described as a living weapon. However, he is also known to go off on unauthorized killing sprees, and his assigned partners have all wound up dead.
Boyd is not afraid to die. When his mother, a high-ranking Agency official, volunteers him to be Sin's newest partner, he does not refuse. In fact, his life has been such an endless cycle of apathy and despair that he'd welcome death.
In the newly revised Director's Cut of Evenfall, the first volume follows these two cast-offs as they go from strangers to partners who can only rely on each other while avoiding death, imprisonment, and dehumanization by the Agency that employs them.
120,000 words.
Warnings: Explicit violence, physical and psychological abuse.
Note: This is the first of the two volumes comprising Evenfall, the first book in the ICoS series.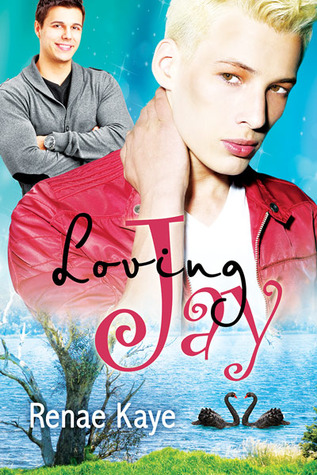 One thing Liam Turner knows for sure is that he's not gay—after all, his father makes it very clear he'll allow no son of his to be gay. And Liam believes it, until a chance meeting with James "Jay" Bell turns Liam's world upside-down. Jay is vivacious and unabashedly gay—from the tips of his bleached hair to the ends of his polished nails. With a flair for fashion, overreaction, and an inability to cork his verbal diarrhea, Liam believes drama queen Jay must have a screw loose.
An accident as a teenager left Liam with a limp and a fear of driving. He can't play football anymore either, and that makes him feel like less of a man. But that's no reason to question his sexuality… unless the accident broke something else inside him. When being with Jay causes Liam's protective instincts to emerge, Liam starts to believe all he knew in life had been a convenient excuse to stay hidden. From intolerance to confrontations, Liam must learn to overcome his fears—and his father—before he can accept his sexuality and truly love Jay.
Scarlet of Lysia is an honest peddler, a young merchant traveling the wild, undefended roads to support his aging parents. Liall, called the Wolf of Omara, is the handsome, world-weary chieftain of a tribe of bandits blocking a mountain road that Scarlet needs to cross. When Liall jokingly demands a carnal toll for the privilege, Scarlet refuses and an inventive battle of wills ensues, with disastrous results. Scarlet is convinced that Liall is a worthless, immoral rogue, but when the hostile countryside explodes into violence and Liall unexpectedly fights to save the lives of Scarlet's family, Scarlet is forced to admit that the Wolf is not the worst ally he could have, but what price will proud Scarlet ultimately have to pay for Liall's friendship?
(source)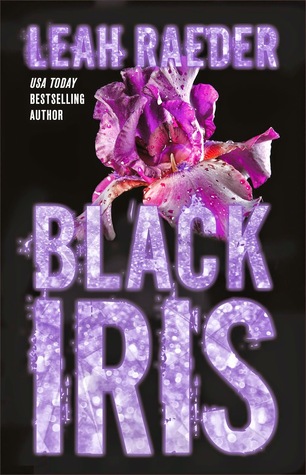 The next dark and sexy romantic suspense novel from the USA Today bestselling author of Unteachable.
It only took one moment of weakness for Laney Keating's world to fall apart. One stupid gesture for a hopeless crush. Then the rumors began. Slut, they called her. Queer. Psycho. Mentally ill, messed up, so messed up even her own mother decided she wasn't worth sticking around for.
If Laney could erase that whole year, she would. College is her chance to start with a clean slate.
She's not looking for new friends, but they find her: charming, handsome Armin, the only guy patient enough to work through her thorny defenses—and fiery, filterless Blythe, the bad girl and partner in crime who has thorns of her own.
But Laney knows nothing good ever lasts. When a ghost from her past resurfaces—the bully who broke her down completely—she decides it's time to live up to her own legend. And Armin and Blythe are going to help.
Which was the plan all along.
Because the rumors are true. Every single one. And Laney is going to show them just how true.
She's going to show them all.
A lord in danger. A magician in turmoil. A snowball in hell.
Exiled to China for twenty years, Lucien Vaudrey never planned to return to England. But with the mysterious deaths of his father and brother, it seems the new Lord Crane has inherited an earldom. He's also inherited his family's enemies. He needs magical assistance, fast. He doesn't expect it to turn up angry.
Magician Stephen Day has good reason to hate Crane's family. Unfortunately, it's his job to deal with supernatural threats. Besides, the earl is unlike any aristocrat he's ever met, with the tattoos, the attitude… and the way Crane seems determined to get him into bed. That's definitely unusual.
Soon Stephen is falling hard for the worst possible man, at the worst possible time. But Crane's dangerous appeal isn't the only thing rendering Stephen powerless. Evil pervades the house, a web of plots is closing round Crane, and if Stephen can't find a way through it—they're both going to die.
Warning: Contains hot m/m sex between a deeply inappropriate earl and a very confused magician, dark plots in a magical version of Victorian England, family values (not the good kind), and a lot of swearing.
Teahouse (Webcomic)
Welcome to The Teahouse, where a motley bunch are ready to serve in and out of the bed. Enter Sir Rhys, a regular client who has turned The Teahouse upside down with his blunt put-downs and skilled moves. Will he choose shy virgin Rory, or the ladies' favorite Axis? Axis is hoping he won't have to service Sir Rhys again, but he can't get him out of his head! What will happen when these two opposites meet again in the bedroom?
Status:
Chapter 01-05: Complete
Chapter 01-05 Backstory: Complete
Chapter 06 & Backstory: Complete Rough
Chapter 07: Incomplete/Discontinued (though the storyline is finished in narrative form to not leave readers hanging as to what would have happened in the end)
Some extra and more explicit content is not available online.
Chapters 01-05 are available for purchase in paperback format, and include extras that are not found in the free online version.
Order them here.
(source)
Starfighter Chapter 1 (Webcomic)
In an unknown time and place, there's a war going on in space and mankind has developed a system of fighting that includes two sides of a team. One person is the fighter who pilots the spacecraft and his partner is the navigator who directs the way.
Navigators come from higher society and are mostly seen as privileged and intelligent. Fighters are men that are known for their violent tendancies, skills in combat, and anger issues.
Abel didn't want to follow his politican father into his world and instead chose his own path as a navigator. He's gay and has always had strong desires that he's hidden… until he's partnered with his fighter, Cain.
Cain is unpredictable, violent, possessive, and very skilled at what he does. He goes through navigators faster then any other fighter so he's developed the reputation that he's impossible to work with.
When Cain meets Abel, he marks him and possessives him in every way possible unknowingly giving Abel exactly what he's been craving for years. Now the only question is, will their relationship grow to benefit them both in this time of war or with Cain's reputation and violent tendancies end up destroying Abel?
(source)
And, finally… *drums*
"This was Vere, voluptuous and decadent, country of honeyed poison"
Damen is a warrior hero to his people, and the truthful heir to the throne of Akielos, but when his half brother seizes power, Damen is captured, stripped of his identity and sent to serve the prince of an enemy nation as a pleasure slave.
Beautiful, manipulative and deadly, his new master Prince Laurent epitomizes the worst of the court at Vere. But in the lethal political web of the Veretian court, nothing is as it seems, and when Damen finds himself caught up in a play for the throne, he must work together with Laurent to survive and save his country.
For Damen, there is just one rule: never, ever reveal his true identity. Because the one man Damen needs is the one man who has more reason to hate him than anyone else…
(source)
So… anything that appeals to you? 😀