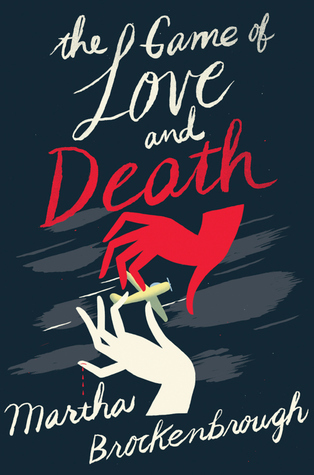 The Game of Love and Death by Martha Brockenbrough
My rating: 3.5 of 5 stars
Received: Publisher
Publication Date: April 28th 2015
Publisher: Arthur A. Levine Books
Point of View: 3rd Person & Alternative
Recommended Age: 12+
Genres & Themes: Young Adult, Historical, Fantasy, Romance, Competition, LGBT
BLURB:
Antony and Cleopatra. Helen of Troy and Paris. Romeo and Juliet. And now… Henry and Flora.
For centuries Love and Death have chosen their players. They have set the rules, rolled the dice, and kept close, ready to influence, angling for supremacy. And Death has always won. Always.
Could there ever be one time, one place, one pair whose love would truly tip the balance?
Meet Flora Saudade, an African-American girl who dreams of becoming the next Amelia Earhart by day and sings in the smoky jazz clubs of Seattle by night. Meet Henry Bishop, born a few blocks and a million worlds away, a white boy with his future assured—a wealthy adoptive family in the midst of the Great Depression, a college scholarship, and all the opportunities in the world seemingly available to him.
The players have been chosen. The dice have been rolled. But when human beings make moves of their own, what happens next is anyone's guess.
Achingly romantic and brilliantly imagined, The Game of Love and Death is a love story you will never forget.
REVIEW:
She whispered this into the baby's ear: Someday, everyone you love will die. Everything you love will crumble to ruin. This is the price of life. This is the price of love. It is the only ending for every true story.

I hardly ever read historical fiction. We all have our favourite genres, mine being fantasy, LGBT and romance and, believe it or not, this book combined all three of them and dispersed them on its 1937 setting. What a fantastic result!
There's a game being played, the game of Love and Death, Love and Death being the judges. The players are Henry Bishop, from a high-classed respected family and Flora Saudade, African-American whose dream is unlike any you might think; she wishes to fly above the oceans, be free and not let anyone or anything keep her from becoming an aviator as great as Amelia Earhart.
Of course Ethan was focused on the plane and the assignment. He never let himself get distracted by girls. Never. Henry tried not to, but without much luck. He was forever looking at them, forever looking for the one who'd make him feel as if he'd met his other half. He'd yearned for it his entire life, not that he could talk to anyone about it.

Henry is the type of guy any girl would fall deeply in love with. Gentle, attentive, passionate and true, he isn't afraid to follow his heart and… will make you swoon. How can one resist someone saying fervent things like, ''If it's us versus the world, my money's on us.'' I know I couldn't. Flora is one hell of a lucky girl. And they're meant for each other.
But when a whole society doesn't approve of the one you love, what do you do?
There are plenty of characters to keep you interested in the story, such as Henry, Flora, Love, Death, Ethan, Helen and a multitude of secondary ones. It was quite entertaining to see Love and Death mingle with our two lovely main protagonists. Also, while I completely despised Death in the first chapters, she… grew on me. There is more about her than what she lets others see.
''Come now. Don't look so angry. In different circumstances, we might have been friends. There isn't so very much that separates you and me.''

''Everything separates us,'' Flora said. ''You can go where you want. Do what you want. Eat where you want. The world belongs to you and yours. My kind, we're here to be your mules. Your world rests on our backs. We even have to pay you off for the privilege of entertaining you. And then you arrest us anyway.''

The author made of Flora an inspiring and strong human being. She loses so much, yet she remains courageous and perseveres in order to fulfill her dream. I actually only have two complaints for the whole novel. First, the last hundred pages could have been reduced to fifty or less and, second, Ethan's character disappeared too unexpectedly and rushedly. It saddened me to see him being expulsed of the story in such a way.
Brilliantly-written, The Game of Love and Death will touch the heart of many.
*Favorite quote: ''A life with all its business finished is a life too cautiously lived.''