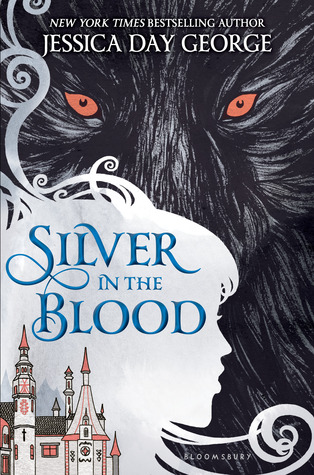 Silver in the Blood by Jessica Day George
My rating: 1 of 5 stars
Received: NetGalley
Publication Date: July 7th 2015
Publisher: Bloomsbury USA Childrens
Point of View: 3rd Person, Feminine & Alternative
Recommended Age: 12+
Genres & Themes: Young Adult, Historical, Paranormal, Werewolves, Cultural, Royalty
BLURB:
A New York Times bestselling author brings dark secrets to life in a lush new YA perfect for fans of Libba Bray or Cassandra Clare.
Society girls from New York City circa 1890, Dacia and Lou never desired to know more about their lineage, instead preferring to gossip about the mysterious Romanian family that they barely knew. But upon turning seventeen, the girls must return to their homeland to meet their relatives, find proper husbands, and—most terrifyingly—learn the deep family secrets of The Claw, The Wing, and The Smoke. The Florescus, after all, are shape-shifters, and it is time for Dacia and Lou to fulfill the prophecy that demands their acceptance of this fate . . . or fight against this cruel inheritance with all their might.
With a gorgeous Romanian setting, stunning Parisian gowns, and dark brooding young men, readers will be swept up by this epic adventure of two girls in a battle for their lives.
REVIEW:
Not even halfway through the year and I have already found my most significant disappointment of 2015. I may have felt great elation at beginning this read, but that feeling was short-lived, because Silver in the Blood snapped it right from the start.
I thought about it and, while I found this book dozens of flaws, one specific thought nestled inside my mind for the whole time I was making my way through the chapters: ''You don't like this story.'' I don't remember the last time I said that in a review. In my negative reviews, I'm principally finding weaknesses to the characters, the writing, the atmosphere… or mentioning the lack of any element I would judge to be missing.
But, no, so much was there: a beautiful sister-like chemistry between the two main characters – Dacia and Lou, a tingle of romance, a lovely writing, an historical setting that is believable and cultural (Romania in the 19th century!), scheming, princes (how I love those) and villains.
However, it's really what the author did with those elements that did nothing to catch my attention. A Lady fighting to gain power and a prince trying to overthrown a king? Teenagers caught in the midst of it all and, wait for it, discovering that they hold great power necessary in the whole plotting? Most of the scenes, although graphic, were severely tedious. To the story, they perhaps, probably, surely, were pertinent but giving that I sought entertainment in this story, I was left displeased.
I found insignificant to the whole storyline the myriad of diary entries written and letters often sent by the two heroines to each other, their parents or ''allies''.
After further thought, I came to the conclusion that there is indeed something in the writing that bothered me truly: the repetition of names. It is as if the author feared that we would forget who the characters are speaking of or their names entirely. I found it annoying. Not something I dwelled upon, hence my remembering it only at this very moment, but it was there, still.
I am not going to lie, I would love for you to read this, if only because it is set in Romania and it would make me happy to see people reading a little about the country I lived in for eight years of my life. But let's be honest: you deserve amazing reads, and this one might just not be IT.