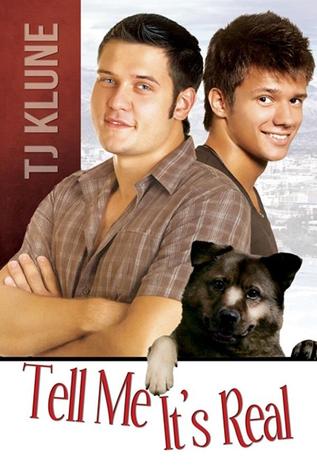 Tell Me It's Real by T.J. Klune
My rating: 3 of 5 stars
Received: Bought
Publication Date: February 15th 2013
Publisher: Dreamspinner Press
Point of View: 1st Person & Masculine
Recommended Age: 16+
Genres & Themes: Adult, M/M romance, Contemporary
BLURB:
Do you believe in love at first sight?
Paul Auster doesn't. Paul doesn't believe in much at all. He's thirty, slightly overweight, and his best features are his acerbic wit and the color commentary he provides as life passes him by. His closest friends are a two-legged dog named Wheels and a quasibipolar drag queen named Helena Handbasket. He works a dead-end job in a soul-sucking cubicle, and if his grandmother's homophobic parrot insults him one more time, Paul is going to wring its stupid neck.
Enter Vince Taylor.
Vince is everything Paul isn't: sexy, confident, and dumber than the proverbial box of rocks. And for some reason, Vince pursues Paul relentlessly. Vince must be messing with him, because there is no way Vince could want someone like Paul.
But when Paul hits Vince with his car—in a completely unintentional if-he-died-it'd-only-be-manslaughter kind of way—he's forced to see Vince in a whole new light. The only thing stopping Paul from believing in Vince is himself—and that is one obstacle Paul can't quite seem to overcome. But when tragedy strikes Vince's family, Paul must put aside any notions he has about himself and stand next to the man who thinks he's perfect the way he is.
REVIEW:
This is one of those books that will either continuously make you chortle or fasten on your countenance a broad smile. In either case, you will be diverted.
When Paul sees Vince for the first time, he doesn't think that something genuine and lasting might ever build between the two of them. Vince is way too sexy and charming and perfect for him. But Vince doesn't take no for an answer. When he ends up at the hospital, having been accidentally hit by Paul's car, the latter is held entirely responsible and therefore obligated to take care of the wounded. Vince got the ''date'' he dreamed of… although in the most unexpected circumstances.
But where does that lead the two characters? Will Paul finally let go of all his insecurities related to his appearance and personality and welcome Vince's love with open arms?
It is a rather psychological – Paul being one to overanalyse and ruminate on tons of subjects, especially his complexions – and dramatic read. However, the humour the author clearly didn't miss to incorporate in the storyline succeeded to figuratively dissolve the over-dramatic elements and leave us with a bearable quantity of it. Apropos, this remark is exclusively regarding the plot. The narrator (Paul)'s abundant exaggerations, sporadic silly commentaries and frequent self-pitying thoughts almost made me dislike his character. At first, I empathized, then, I started rolling my eyes and, finally, decided to classify his as a drama queen and try to enjoy the novel regardless.
Romance or the mention of it can be found everywhere inside this story and the latter will warm your heart. If it starts as insta-love, it definitely doesn't continue on a sappy pathway. In the contrary, the two protagonists don't magically attain the ''rainbows and sunshine'' state of mind, for they have many obstacles in front of their path leading to their happiness. Drama just liked bursting in.
The slow-pacing isn't something I minded until a good part of the story had been read. I came to the conclusion that one third of Tell Me It's Real could have been obliterated. Usually, I strongly complain about the fact that M/M romances all normally possess an amount of pages being of approximately two hundred. Which isn't much. At all. But it's preferable for a book to contain fewer pages and be engaging throughout than more and drag.
Lovely story. Could have been better, but I have the feeling that, for those who prefer relatively sarcastic and theatrical main characters, this will be a four or five-star read!