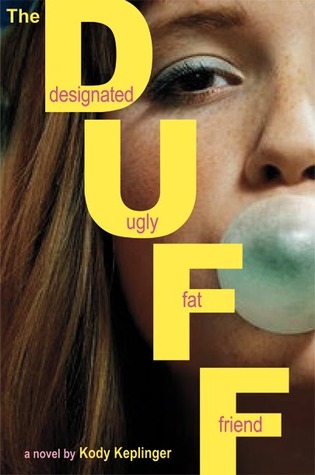 The DUFF: Designated Ugly Fat Friend by Kody Keplinger
My rating: 1 of 5 stars
Received: Borrowed
Publication Date: September 7th 2010
Publisher: Little Brown/Poppy
Point of View: 1st Person & Feminine
Recommended Age: 13+
Genres & Themes: Young Adult, Contemporary, Chick-Lit, High School, Romance, Drama
BLURB:
Seventeen-year-old Bianca Piper is cynical and loyal, and she doesn't think she's the prettiest of her friends by a long shot. She's also way too smart to fall for the charms of man-slut and slimy school hottie Wesley Rush. In fact, Bianca hates him. And when he nicknames her "the Duff," she throws her Coke in his face.
But things aren't so great at home right now, and Bianca is desperate for a distraction. She ends up kissing Wesley. Worse, she likes it. Eager for escape, Bianca throws herself into a closeted enemies-with-benefits relationship with him.
Until it all goes horribly awry. It turns out Wesley isn't such a bad listener, and his life is pretty screwed up, too. Suddenly Bianca realizes with absolute horror that she's falling for the guy she thought she hated more than anyone.
REVIEW:
What a bummer.
I decided to read this novel for four distinct reasons:
1) The unmistakable hype
2) The movie was exactly what I hoped to watch a Friday night
3) Many reviewers qualified this book as ''fun'' and ''absolutely entertaining''
4) I wanted to see how the DUFF thing was dealt with in the written story and recognize the changes they made to the cinematographic version (because there always are)
But the thing is… hype lies, this was nothing – and believe me when I say that – like the movie, the storyline held so many clichés it became more boring than entertaining itself and the DUFF thing was scantly explored. It laid there in the background but, really, the author probably only included it to add something ''new'' to the friends-with-benefits overwritten cliché. I get that there is supposed to be a message behind the DUFF thing, but we only really get it by watching the movie.
Aside from the omnipresent stereotypes – gosh, you could actually swim inside a pool filled with them – Bianca, the main character, was highly irritating. Obnoxious. Abrasive. Rude. I might seem like a cold-heartened person by saying this, but I truthfully don't see how Wesley could have ''fallen'' for her. She was so mean to him, and there was really nothing special about her. Maybe I would have felt differently toward her if she hadn't bitched about (and to) her friends, her dad and Wesley himself whenever she wasn't ''in the right mood,'' which means for half of the story, heh! Ugh. I can't stand it when people throw at others hurtful words without thinking about the other people's feelings.
Well, I'm glad I'm done with this read. (High fives to self for not having DNF'd.)