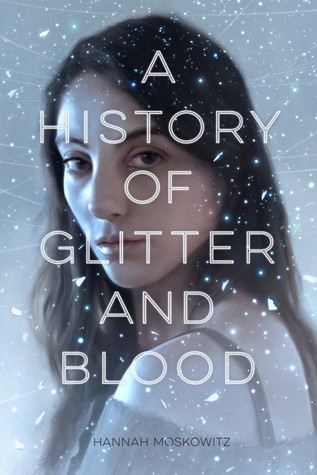 A History of Glitter and Blood by Hannah Moskowitz
My rating: 1 of 5 stars
Received: NetGalley
Publication Date: August 4th 2015
Publisher: Chronicle Books
Point of View: 3rd Person & Alternative
Recommended Age: 12+
Genres & Themes: Young Adult, War-Setting, Romance, Fairies
BLURB:
Sixteen-year-old Beckan and her friends are the only fairies brave enough to stay in Ferrum when war breaks out. Now there is tension between the immortal fairies, the subterranean gnomes, and the mysterious tightropers who arrived to liberate the fairies.
But when Beckan's clan is forced to venture into the gnome underworld to survive, they find themselves tentatively forming unlikely friendships and making sacrifices they couldn't have imagined. As danger mounts, Beckan finds herself caught between her loyalty to her friends, her desire for peace, and a love she never expected.
This stunning, lyrical fantasy is a powerful exploration of what makes a family, what justifies a war, and what it means to truly love.
REVIEW:
I was so excited to read this one, when it first appeared on Goodreads, but then my excitement dwindled when I saw the cover (I'm an unapologetic coverwhore) and now, after reading 25% of the story, I'm left with a feeling of complete confusion.
I remember very little of what I just read. The world-building lacked detail to an extreme point and the story seemed so messy with a do-this-do-that kind of plot. The characters were going from a point A to a point B with poor to no reason behind. Impertinent actions.
A History of Glitter and Blood needed of me a huge amount of concentration to follow its characters. It's actually weird: I was reading, yet the words slipped from my mind right after having read them. It's rare that I have this kind of experience with books (thank god), but I'm always left confounded when it happens.
Oh, and there were some illustrations/paintings/weird pictures inside the story. *clears throat* They weren't necessary.