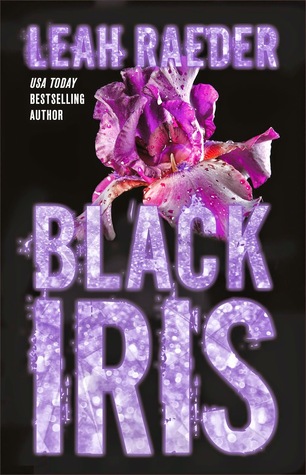 Black Iris by Leah Raeder
My rating: 5 of 5 stars
Received: NetGalley
Publication Date: April 28th 2015
Publisher: Atria
Point of View: 1st Person & Feminine
Recommended Age: 16+
Genres & Themes: New Adult, Contemporary, Lesbian, Romance, Dark, Mental Illness, Revenge, Love Triangle
BLURB:
The next dark and sexy romantic suspense novel from the USA Today bestselling author of Unteachable.
It only took one moment of weakness for Laney Keating's world to fall apart. One stupid gesture for a hopeless crush. Then the rumors began. Slut, they called her. Queer. Psycho. Mentally ill, messed up, so messed up even her own mother decided she wasn't worth sticking around for.
If Laney could erase that whole year, she would. College is her chance to start with a clean slate.
She's not looking for new friends, but they find her: charming, handsome Armin, the only guy patient enough to work through her thorny defenses—and fiery, filterless Blythe, the bad girl and partner in crime who has thorns of her own.
But Laney knows nothing good ever lasts. When a ghost from her past resurfaces—the bully who broke her down completely—she decides it's time to live up to her own legend. And Armin and Blythe are going to help.
Which was the plan all along.
Because the rumors are true. Every single one. And Laney is going to show them just how true.
She's going to show them all.
REVIEW:
Mom used to say that if you listen, people will tell you exactly how to hurt them. Because part of us wants to be hurt. We want to know how strong we really are.

Well, well… finally. I have finally read an enjoyable lesbian romance story. I was on the verge of admitting it to myself that perhaps it just isn't for me. Thank you, Leah Raeder, for convincing me of the contrary. Thank you.
I can't even describe you how complex and crazily dark, suspenseful the story is. There's so much in this: so many feelings, emotions, secret thoughts deeply concealed, themes and ubiquitous heart-wrecking moments.
''You're not like them, Laney. I saw it the second you arrived. You don't belong there.''
''Where do I belong?''
''On a rocky cliff above a tempestuous sea. With the salt breeze whipping through your hair, and a house burning behind you.''

Laney isn't your every-day good, pure and staying-out-of-trouble girl. She's diagnosed with borderline personality disorder (BPD) which means that, emotionally, she is very unstable. She takes drugs. She's reckless, unpredictable, manipulative, pitiless… pervasive. An anti-heroine.
You'll hate her.
You'll love her.
She'll scare you.
She'll seduce you.
Everything inside this strikingly intense novel is planned out masterfully: the storyline, the characters, the vendetta, the relationships…
The relationships. Laney and Blythe cast a spell on each other… and on me. Together, they're like two magnets; you can indeed pull them apart with great force, but they will always find ways to reduce the distance in order to reconnect and will always feel each other's energy, even from far away. And they're powerful.
Girls love each other like animals. There is something ferocious and unself-conscious about it. We don't guard ourselves like we do with boys. No one trains us to shield our hearts from each other. With girls, it's total vulnerability from the beginning. Our skin is bare and soft. We love with claws and teeth and the blood is just proof of how much. It's feral.
And it's restless.

The writing entranced me into a daze I didn't want to emerge from.
It is no wonder Black Iris made it to my top five favorite reads of 2015 and my highly treasured ''favorites'' shelf. Because it deserves it.
Most of us are sheep who spend our lives in want. We follow the path worn smooth and velvety from the hooves before us. There's no need for lashes or fences—we call those things law and morality.