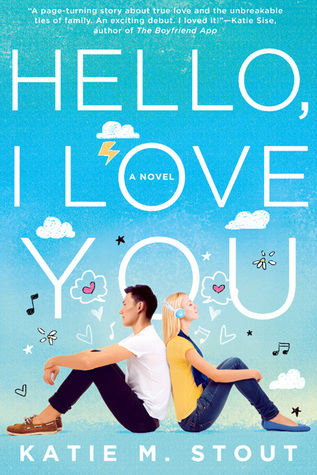 Hello, I Love You by Katie M. Stout
My rating: 3.5 of 5 stars
Received: NetGalley
Publication Date: June 9th 2015
Publisher: St. Martin's Griffin
Point of View: 1st Person & Feminine
Recommended Age: 12+
Genres & Themes: Young Adult, Contemporary, Romance, Music, Boarding School, Cultural, K-POP
BLURB:
A teen escapes to a boarding school abroad and falls for a Korean pop star in this fun and fresh romantic novel in the vein of Anna and the French Kiss.
Grace Wilde is running—from the multi-million dollar mansion her record producer father bought, the famous older brother who's topped the country music charts five years in a row, and the mother who blames her for her brother's breakdown. Grace escapes to the farthest place from home she can think of, a boarding school in Korea, hoping for a fresh start.
She wants nothing to do with music, but when her roommate Sophie's twin brother Jason turns out to be the newest Korean pop music superstar, Grace is thrust back into the world of fame. She can't stand Jason, whose celebrity status is only outmatched by his oversized ego, but they form a tenuous alliance for the sake of her friendship with Sophie. As the months go by and Grace adjusts to her new life in Korea, even she can't deny the sparks flying between her and the KPOP idol.
Soon, Grace realizes that her feelings for Jason threaten her promise to herself that she'll leave behind the music industry that destroyed her family. But can Grace ignore her attraction to Jason and her undeniable pull of the music she was born to write? Sweet, fun, and romantic, this young adult novel explores what it means to experience first love and discover who you really are in the process.
REVIEW:
Hello, I Love You is probably the most improbable young adult contemporary romance novel that I have read this year. YET, it is also lovely and the type of book that will make you dream of a one-in-a-million relationship with someone.
It's funny how rich people can get whatever they want, whenever they want. Wealthy producer daughter Grace Wilde impulsively and unexpectedly decides to transfer to a Korean high school to get away… to escape from an overwhelming life at being known practically solely through her father's fame and brother's shocking story.
I wish it didn't, but it bothered me to know that she only picked Korea because of how far in distance it is from Nashville and so her family. It is not as if she had wonderful interest in the country, the people, the culture or the language. For her, the precise destination was less important then the act of getting away.
Nonetheless, I am glad she picked Korea, because I've been meaning to learn a little about this often-talked-about country. And, literally, I only learned a little. The author often, up to 70% of the story, mentioned peculiarities and differences in Koreans' way of interacting with each other and their diet, but without getting into detail. Unfortunate, since I believe it would have grandly enriched this novel.
Also, I prefer being described something than being obliged to make a research after reading. For example, Grace, along with Jason and Sophie, went to Seoul to visit Jason and Sophie's mom, and the only thing – or so – that Grace said about Seoul was that it reminded her of New York City. She could have limned it better by talking about the skyscrapers or say something about the fact that it is the capital of South Korea which, I think, she did not. That would have been an importance, even though basic, piece of information.
I didn't mean to get into the negatives so much, since I did enjoy this to a relatively high degree. I'm glad that not everything about it was entertainment alone. In fact, there are real-life-matters being depicted and well enough developed. It wasn't possible for me to relate to the main character or feel close to her, because of how our common interests vary, but it doesn't mean that I didn't enjoy her; I did… but there were moments when I felt very detached… and peeved by the harshness in her words. She really isn't the type to be scared of speaking up her mind, whatever thoughts she may had.
The storyline won me over. It contained everything I enjoy in a story or generally in life: a foreign setting, a love/hate relationship, true friendships, many various scenes shimmering with life and/or stardom, cultural elements, a set of lively secondary characters, etc.
You don't have to be a K-POP enthusiast to enjoy this. In fact, you only have to start reading, period. *wink* *wink*